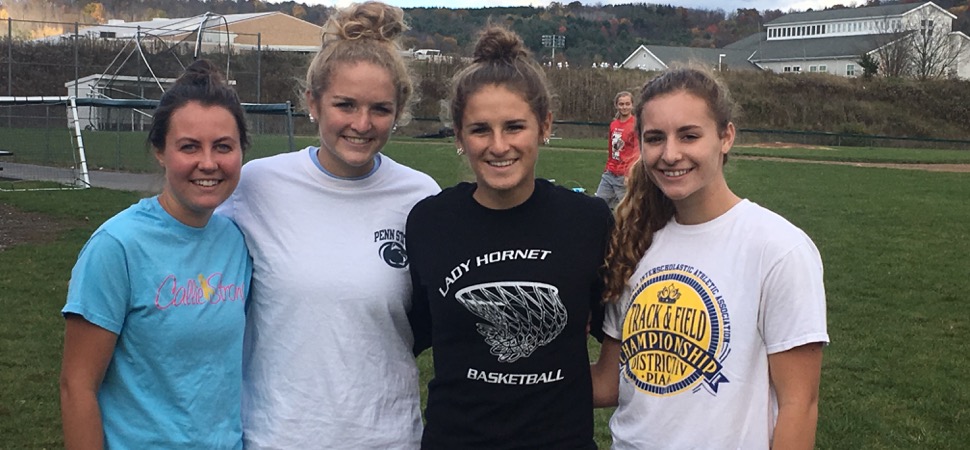 4 Lady Hornets named to NTL All-Star Soccer team
By: Ed Weaver | PIAA District IV | November 8, 2017
Four members of the Wellsboro Girls Soccer team were named to the NTL All-Star team on Tuesday, November 7.
Seniors Kailee Clymer, Kaitlyne Kramer, and Lizzie Poirier and junior Emma Poirier were all Second Team selections.
Clymer was named a 2nd Team pick at forward in her first year of playing the field. She scored 13 goals and made 9 assists.
Kramer and Lizzie Poirier were both 2nd Team defenders.
Emma Poirier was 2nd Team midfield selection, scoring 16 goals, making 8 assists, and recording 40 points. She was also 6-for-6 in penalty kicks for the season.
"Removing Kailee from goal after three years I thought would be a negative response, but it was not she actually wanted to play the field," said head coach Scott Burrous. "She has great speed and quickness and one of our team captains. I believe Kailee surprised a lot of us this year including herself.
"Elizabeth was our team captain. I wanted her to play defense. She started a little slow trying to understand what her role was, but once she knew it she accepted it and just kept getting better every game. What a improvement from day one. The season seemed to end to soon for her she is a great leader.
"Kaitlyne played her spot very well. Once she realized she had talent around her she was able to have an even bigger role for the Hornets taking direct and indirect kicks, which resulted in scoring the winning goal against Sayre. Kaitlyne will be missed next year.
"Emma filled many roles this season being a junior. It's very exciting for me knowing she is returning next year. Emma made people around her better and had many roles and handled them well. We are looking for great things from Emma next year."
WellsboroSoccer.com and WellsboroAthletics.com would like to congratulate Kailee, Kaitlyne, Lizzie, and Emma on their selections.
View the complete 2017 NTL Girls Soccer All-Star team.