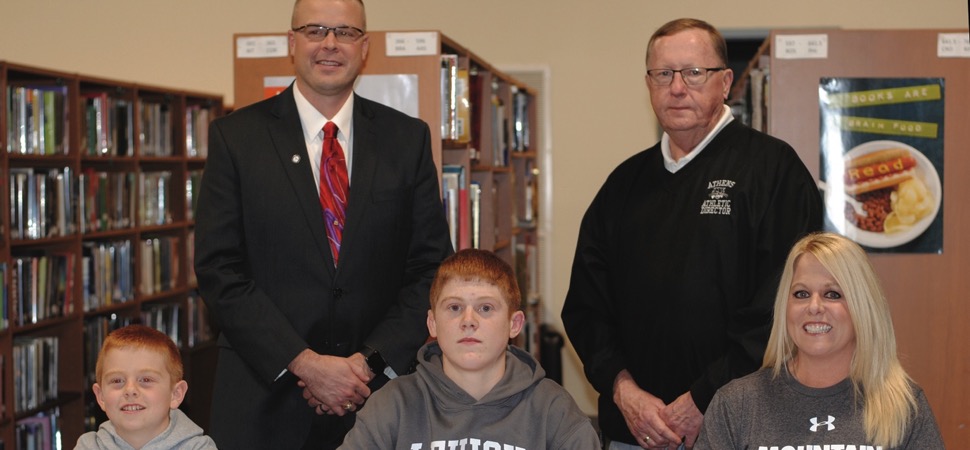 Athens' Burkhart pens intent with Lehigh
By: Kevin L. Smith | Sayre Morning Times | November 17, 2017 | Photo courtesy Kevin Smith
ATHENS -- Athens' AJ Burkhart just got a big monkey off his back.
On Thursday, Burkhart officially signed his letter of intent to wrestle at Lehigh University, a Division-1 program, following his verbal commitment back in summer.
"It definitely feels good to know I don't have to worry about making a decision for college," he said. "It'll help me focus on my last year."
For Burkhart, a 2015 NYSPHSAA state champion, 2016 fifth-place medalist and 2017 PIAA state qualifier, he is still confident in his decision.
"When I went down there and visited, Coach (Pat) Santoro and (Brad) Dillon were great. It seemed really fitting to be with the program. I'm really excited for the opportunity."
The Mountain Hawks are also heading in the right direction of success, which is something that peaked Burkhart's interest even more.
"The program is up-and-coming and they had a national champion at 125 (Darian Cruz) last year,' he said. "The team just seems like a family and that's something I want."
The Athens senior went down for a wrestling camp at Lehigh, and that is where the Hawks coaches noticed AJ.
"They recruited me after I went down there for a camp," Burkhart said.
After a positive outcome at the camp, Burkhart found it easier to make his college choice.
"It really didn't take that long," Burkhart said. "After my visit (at Lehigh) and seeing what they have to offer, it seemed perfect. They have everything right with their coaches and athletes."
With his college decision out of the way, it's now time for Burkhart to focus on his final season with the Wildcats.
"Right now, I'm just focusing on my senior year, getting down to Hershey and on to the podium," he said.
"Not making it past the blood round last season, it's definitely still in my mind. I want to redeem myself."
Burkhart intends to wrestle in the weight class at 138 for Athens this season, then make a switch to 132.
"(132) will probably be when I go into the postseason," he added.
With the Hawks, Burkhart mentioned he is hoping to start at 133 or 141.
He considered Cornell and North Carolina State before choosing Lehigh.
"I knew Lehigh was the right one," Burkhart said.
Burkhart plans to study civil engineering while attending Lehigh.