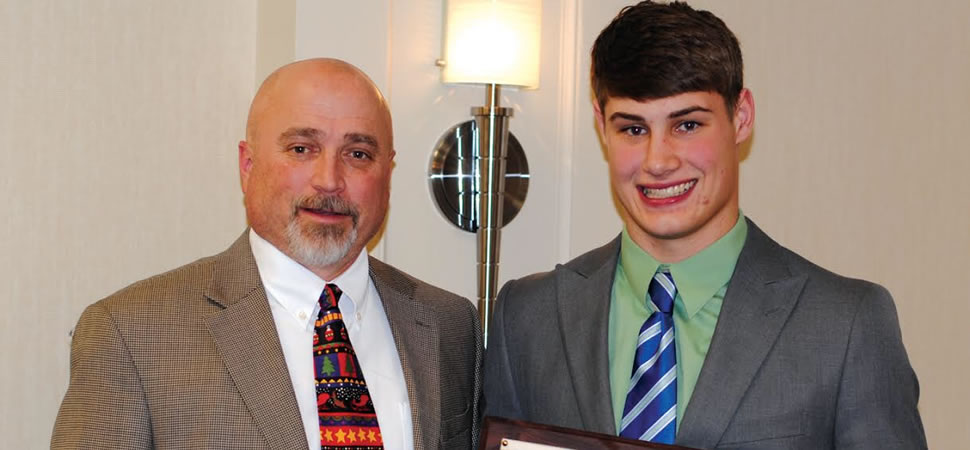 Athens' Jayne takes home Joel Stephens Award
By: Kevin L. Smith | Sayre Morning Times | December 18, 2017 | Photo courtesy Kevin L. Smith
ELMIRA — On the Pennsylvania side of the Joel Stephens Memorial 5C Award, Athens' Zack Jayne was honored with the prestigious plaque on Thursday in Elmira.
The Joel Stephens Memorial 5C Award is recognized to special athletes for their work not only on the football field, but in the classroom and the community.
The award is named after the late and great Elmira-Notre Dame football player Joel Stephens, who died of colon cancer back in 1998. The five C's stand for Christianity, Courage, Commitment, Character and Compassion.
Jayne was humbled, but appreciative on receiving the award.
"It's a great honor," Jayne said. "Joel Stephens was a great man. It was also a great honor to be compared to a man who did so much on the football field and in his community."
The Athens senior gave a shoutout to the people who raised him his entire life.
"This award shows how lucky I am to have great parents who have established great values in me. It's very humbling to be recognized as a great person in the community."
Athens Coach Jack Young chimed on in how special of a person Jayne can be and how much he deserved the award.
"I think it's just another example of how this award is in Zack's wheelhouse. That's the kind of kid he is," Young said. "Football is just a tiny piece of who Zack Jayne is. There's going to be a lot of bigger and better things in his life."
Jayne had a season for the ages in 2017. He broke former Athens (Bulldog) standout Ken Haggerty's single-season rushing (1,754) and touchdown (22) record of which Haggerty set back in the 1987 season.
The Athens tailback standout also broke the touchdown record in week eight against Wyalusing and finished the season with a new record of 35 TDs. The shattering of the rushing record came against Sayre in week 10 and tallied up 2,092 yards rushing through 11 total games.
Jayne is the first Athens player to win the Joel Stephens Award since Gabe Sporn back in 2015.