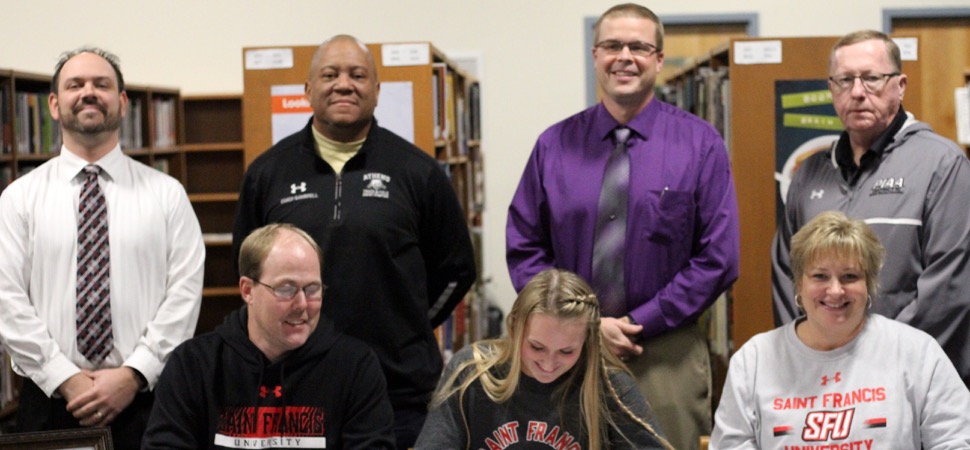 Athens senior Lunger signs with Division 1 St Francis
By: Tim Birney | Valley Sports Report | November 16, 2017 | Photo courtesy Tim Birney
ATHENS — Less than two years after taking track season off to concentrate on her basketball career, Athens senior Emily Lunger signed a letter-of-intent here Monday afternoon to compete in track & field at Division 1 St. Francis University, located in Loretto, Pa.
Lunger, who also had offers from Division 1 Robert Morris and Duquesne, said St. Francis "felt like home."
"St. Francis was the perfect fit for me athletically and academically," said Lunger. "It's cozy and not overwhelming. It's perfect for me, coming from a small town.
"They had the major I was looking for, and they have a great placement rate after college," she noted.
"And, the team and the coaches were phenomenal," added Lunger. "It really felt like a family, and they made me feel like a part of it. I just fell in love with it."
Lunger smiles as she acknowledges that she will be competing in track & field at the next level.
"I took my sophomore year off (from track) to focus on basketball because I thought I had a better opportunity to play basketball in college.
And, at the time, track wasn't my favorite sport. I'm not gonna lie, that may have been a factor," laughed Lunger.
"Taking that year off made me realize how much I missed it, and what it gave me," she explained. "I missed winning and crossing the finish line.
"When I came back my junior year, it was like I didn't miss a beat. I made up for lost time, and it worked out for me in the end," Lunger added.
A three-sport standout, Lunger won't get the opportunity to test her skills in soccer or basketball against Division I athletes at St. Francis.
"I don't think I could do anything else. I'll be competing in indoor and outdoor track, so I'll be pretty busy," said Lunger. "I've never had to prepare for an indoor track season, so it will all be new to me."
Lunger, who has three PIAA medals, including one in the 400-meter dash as a freshman, and another in the 200-meter dash as a junior, as well as a District 4 title in the high jump, doesn't know what events she'll be competing in at the next level.
"They have not told me what I'll be doing once I get there," she said. "They're happy with all my times and heights. I'll just keep working, and I'll be surprised once I get there."
Lunger's coach at Athens, Ben Gambrell, said it won't matter.
"I'm not sure what they'll use her in," he said. "I still see her in the 400, possibly stretching her out to the 800. Who knows where she'll go with the high jump, with a little more training.
"They can change things up on you once you get to college, but I expect her to be successful no matter where they put her because she just has that desire to win," Gambrell added.
Gambrell notes that will to win will take Lunger a long way.
"Pure determination will make her successful," he said. "She likes to succeed, and she has that fire and desire to be the best.
"She's going to fit right in, jumping in against the best of the best down there to show her stuff," said Gambrell. "She is a D-1 athlete, and she's earned the right to compete at that level."
Most athletes say the pressure is off once they sign a letter. Lunger is looking to take her performance to the next level, before she gets to the next level.
"Actually, it makes me want to take things up a notch to prove to everyone that I am capable of competing at the Division 1 level with D-1 athletes."
Lunger will major in Marketing.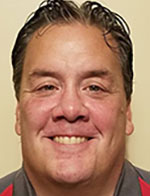 Tim Birney is the founder / owner of River Road Media Group. He was born and raised in the Valley, graduating from Waverly High School in 1984.
Birney earned an Associate's Degree in Journalism from SUNY Morrisville in 1986 and a Bachelor's Degree in Journalism / Public Relations from Utica College of Syracuse University in 1988. He began his newspaper career at The Daily Review in Towanda in 1989, before moving on to The Evening Times in 1995. He spent more than 10 years at the Times, the last four as Managing Editor.
River Road Media Group includes five sites in "The Sports Reports" family that cover 24 school districts in five counties: Valley Sports Report (launched Aug. 10, 2009), Tioga County (NY) Sports Report (Aug. 13, 2018), and Northern Tier Sports Report (Aug. 31, 2020); Northern Tier West Sports Report (March 15, 2021) Southern Tier Sports Report (Aug. 16, 2021).