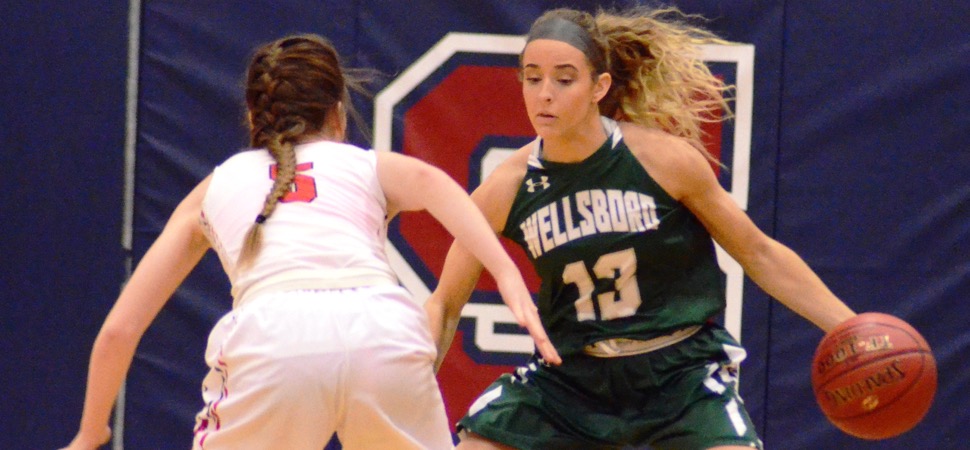 Big first quarter powers Wellsboro past Sayre
By: Ed Weaver | PIAA District IV | December 16, 2017 | Photo courtesy Brian Fees
A 24-point first quarter by the Wellsboro Varsity Girls Basketball team propelled them past Sayre, 63-42 on Friday, December 15.
Seniors Tory Self (12) and Rachael Tuttle (10) combined for 22 points in the opening frame while the Lady Hornets' defense frustrated Sayre, the defending District IV Class AA champions, and held them to just 6 points. The Lady Hornets kept it up in the second as Self added 7 more points. Junior Emma Poirier caught fire with 9 points to outscore Sayre 19-12 to take a 43-18 lead at halftime.
Sayre's offense finally came alive in the second half as they closed the slightly, but 7 more points from Poirier kept Wellsboro in front 57-29 after the third. Sayre outscored the Lady Hornets 13-6 in the fourth, but the damage had been done and Wellsboro rolled to their fifth straight win.
Self finished with a game-high 24 points and Poirier finished with 20. Tuttle was also in double-figures on the night, tying her career-high with 14 points. Senior Lizzie Poirier rounded out the scoring with 5 points.
Sayre won the JV game 31-10.
The win improves the Lady Hornets' record to 5-0 (2-0 NTL Large School Division). The team will be back in action on Wednesday, December 20 against Cowanesque Valley.