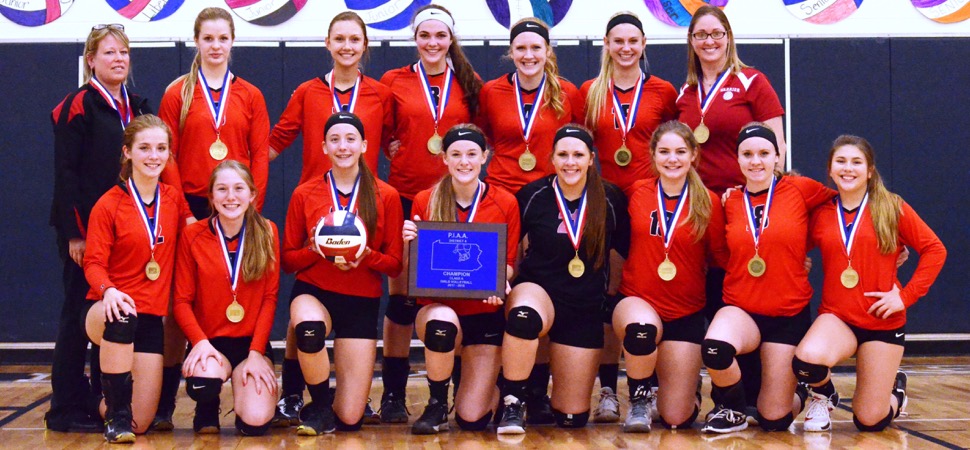 Canton tops Cowanesque Valley 3-1 to win D4 Class A volleyball title
By: Brian Fees | Towanda Daily Review | November 3, 2017 | Photo courtesy Brian Fees
TIOGA — It was Caitlyn Pepper's 17th birthday on Thursday, and there was one big gift the Canton junior was hoping for. Pepper and her Warriors teammates wanted to bring home a District 4, Class A title on her birthday, and that's exactly what they did, as they beat Cowanesque Valley 25-15, 23-25, 25-20, 25-18.
"I tried keeping it a secret," Pepper said of her birthday.
"She did, it's the perfect birthday present," Sam Proseus added.
Once the day started, the players all knew that it was Pepper's birthday.
"We have been talking about it all day," Pepper said.
And, the junior knows a loss would not have been okay.
"It would have been a really bad birthday," she said.
The Warriors got off to a dominant start, cruising in the first game to the win.
In the second game it was the Indians who got off to a fast start and they looked like they would cruise to the victory.
CV led the Warriors 24-17 in that second game before the Warriors started to fight back. Canton reeled off six straight points to get within one.
While the Warriors weren't able to win that second game, the strong finish helped carry over into the next two games as the Warriors brought home their first district title of this decade.
"I'm very excited for them, they worked very hard," Canton coach Sheila Wesneski said.
After getting down in that second game the kids knew they had to fight back.
"It was extremely important (the comeback in the second game), so we could come back stronger for the next game," Proseus said.
"We wanted it more and we came back and we got it," Hailey Wesneski said.
Sheila Wesneski saw the energy from her team after the comeback bid in the second game.
"They just said 'come on guys' in the huddle, all of them, 'we can do this, we can do this, we can finish this,'" Wesneski said.
For Canton it looked like they wouldn't get into districts, but they finished the season strong to get into the postseason.
"I think once they realized they could do this, I think getting over that hump, because they are a young team, I had no seniors, once they got over that hump of we are decent, we can play well. They realized they could do great things if they put their mind to it.
"My goal was to try and get them here. I knew they could win it if I could get them to believe in themselves, because they are a talented team. It's been a long time since they've been here (to districts), I think the last year was probably 2010."
The Canton players know how hard they worked to get to this point.
"It feels awesome, we worked really hard," Proseus said.
"No words can describe it, we worked hard all season," Esther Martin added.
As the Warriors got to that fourth game the nerves started to hit them, but they knew they had to close out the win.
"We just wanted to play tough and finish," Proseus said. "The nerves were really high, but we played hard."
Martin had 13 points for Canton and Ellie Binford had 12. Pepper and Hailey Wesneski each finished with 10 points in the match.
Martin had six aces and Binford had five, while Wesneski had four aces.
Proseus had a huge game at the net with 20 kills and Wesneski had seven, while Binford had six and Martin had five.
Proseus and Pepper each had 12 digs and Jill Shay had 11, while Martin had 10. Binford had nine and Wesneski finished with eight. Pepper had 35 assists for the Warriors.
CV was led by Makayla Vargeson with 12 digs and 10 kills and Amaya Walker had 10 kills, 16 digs and four points.
Jenna Romaneo had 16 assists, 11 digs and 11 points and Emma McClaren had four kills, four digs and five points.
Nicole Hummel had a point, three kills and a block and Julia Draper had 14 digs and five points.
Ashleigh Southard had four digs and two points and Karmen Short had six digs, three kills, a block and two points.