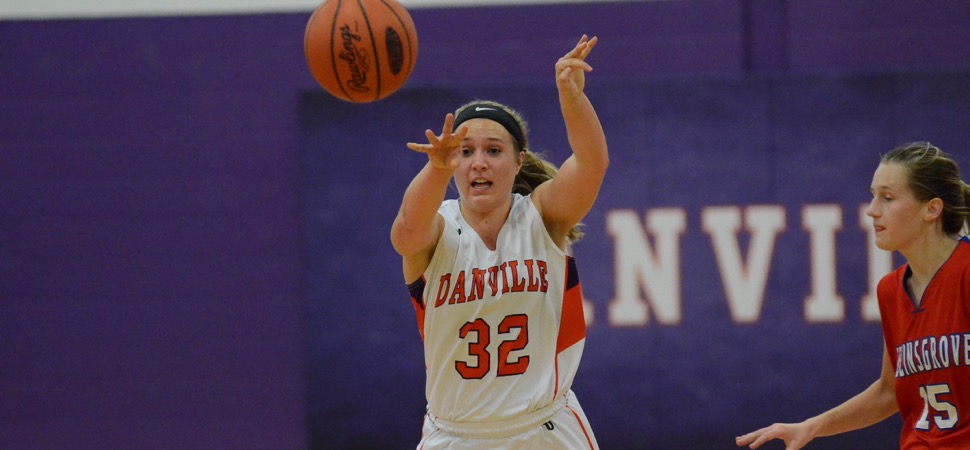 Danville girls top Selinsgrove, 45-22
By: Ed Weaver | PIAA District IV | December 12, 2017 | Photo courtesy Brett R. Crossley
The Danville Lady Ironmen picked up their first win of the season (1-2) with 45-22 victory over Selinsgrove on Monday, December 11.
After holding a narrow 20-13 lead at halftime, Danville outscored the Lady Seals 25-9 in the second half to run away for the win.
Bethany Hileman led Danville with 18 points, Linae Williams had 6, and Conrinna Petrus pitched in 5.
Olivia Outt led Selinsgrove with 10 points.
Selinsgrove won the JV game, 35-34.
Sullivan County 54, Wyalusing 39
Sullivan County outscored the Lady Rams 35-10 in the first half to cruise to their third straight victory.
Jessica King had a double-double of 12 points and 12 rebounds, Stef Kramer had 10 points and 6 steals, and Mykenzie Malacusky scored 9 points and had 5 steals.
Sarah Bird led Wyalusing with 18 points and 4 steals. Morgan Woodruff had 8 points, Emily Champluvier had 4 points and 4 steals, and Paige Robinson had 5 points and 7 rebounds.
Other Scores
Jersey Shore 51, St. John Neumann 29
Shamokin 41, Mifflinburg 26
North Schuylkill, Loyalsock 60
South Williamsport 58, Troy 18
Boys
Warrior Run 63, Central Columbia 54
Gage Anzulavich scored 24 points and grabbed 15 rebounds in the Defenders' win over Central Columbia on Monday. Luke Burrows had 14 points and 2 rebounds and Ahmahd Keyes had 12 points, 10 rebounds, and 6 assists.
Warrior Run led 18-4 after the first quarter but Central battled back and outscored Warrior Run 21-13 to get to within 6 points (31-25) at halftime. Central cut the lead to 5 to start the fourth quarter, but Anzulavich went 6-for-9 from the foul line in the fourth as Warrior Run outscored Central 20-16 to hand on for the win.
Dominic Coombe led Central with 13 points, Jared Verse had 12, and Eli Morrison finished with 11.
Other Scores
Muncy 70, South Williamsport 61
St. John Neumann 75, Montgomery 31