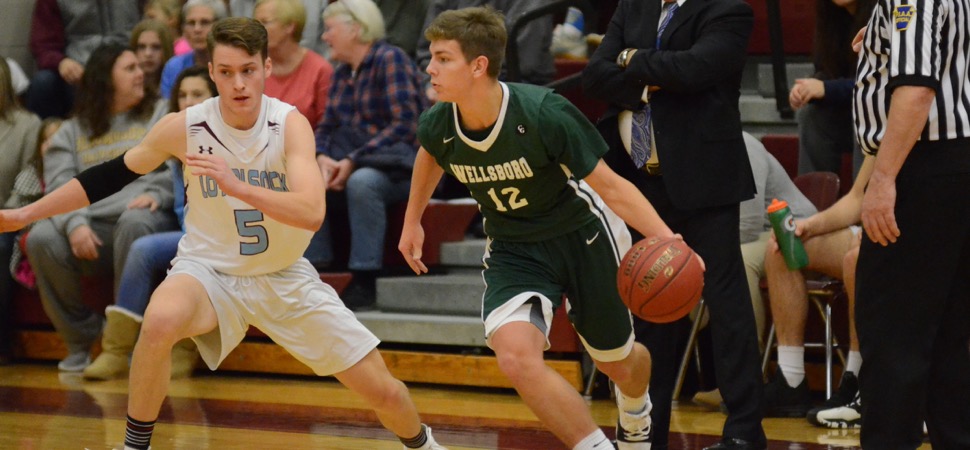 Hornets fall to Loyalsock in tournament final
By: Ed Weaver | PIAA District IV | December 10, 2017 | Photo courtesy Brett R. Crossley
The Wellsboro Varsity Boys Basketball team finished as runner-ups to Loyalsock in the Loyalsock Tip-Off Tournament on Saturday, December 9.
After an early Lancer three-pointer, Wellsboro battled back and led 13-11 after the first. The game remained close in the second quarter as neither team led by more than 6 points. Loyalsock won the quarter 14-12 as both teams were tied at 25-25 at the half.
After the intermission both teams struggled to score as the defenses tightened. Wellsboro edged the Lancers 7-5 in the quarter to lead 32-30 heading into the fourth quarter.
That's when it all fell apart for the Hornets.
Loyalsock outscored Wellsboro 22-6 down the stretch. As the Hornets started losing steam the Lancers capitalized on several Wellsboro turnovers and pulled away for a 52-38 win. Loyalsock's Mitch Klingerman scored 14 of his game-high 17 points in the fourth while Anthony Pastore scored 10.
"We got tired and they started picking our press apart," said head coach Todd Outman. "We got in a situation where we had to gamble a little bit and in the last two minutes we probably gave up 10-12 points (on layups). Besides that it was close but we fell apart. When you get tired the first thing to go is your mind and we struggled."
Senior Quinn Henry led Wellsboro with 16 points (4 three's). Junior Brandyn Tuttle scored 11, senior Nic Ingerick added 7, senior Collin Pietropola scored 3 and junior Andrew Brelo pitched in a point. Tuttle was a rebound shy of a double-double while Henry and Brelo each grabbed 4 boards. Henry and Pietropola both recorded 2 assists.
Henry and Tuttle were also named to the All-Tournament Team.
The loss drops the Hornets to 1-1 on the year. The team will be back in action on Tuesday, December 12 at Northeast Bradford.