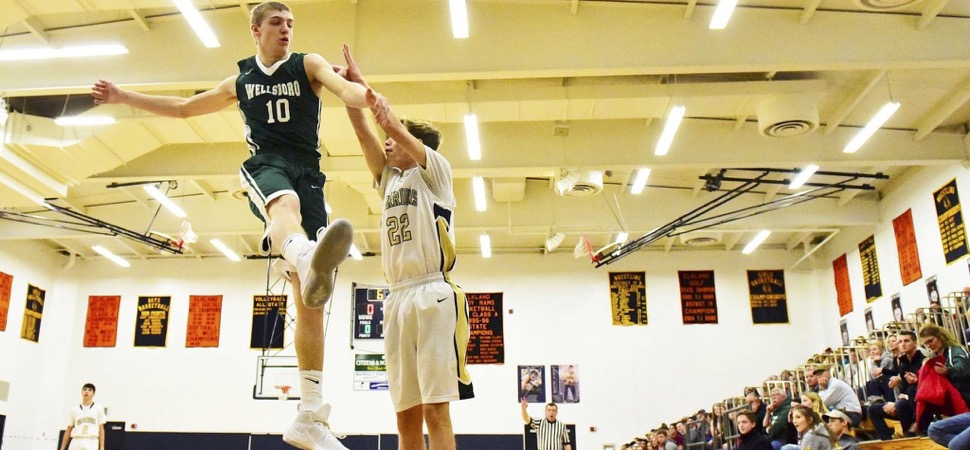 Hornets steamroll Williamson, 87-27
By: Ed Weaver | PIAA District IV | December 22, 2017 | Photo courtesy Tim McBride, Tioga Publishing
A 36-point first quarter was all the Wellsboro Varsity Boys Basketball team needed to beat Williamson in an 87-27 blowout on Thursday, December 21.
The Hornets were on fire to start the game, both inside the paint and from outside the three-point line, to jump on top of the Warriors. At one point the Hornets led 15-0 before Williamson got on the scoreboard.
After the first quarter Wellsboro led 36-8.
Williamson made a run to start the second as Wellsboro went to their bench, but the Hornets still managed to outscore them 15-13 to win the quarter and take a 51-21 lead at the half.
Wellsboro came out of the break and again put the hammer down and outscored Williamson 22-4 in the third quarter. The Hornets played much of the second half with a running clock under the mercy rule en route to their fifth straight win.
Senior Dalton Prough led all scorers with a game-high 22 points and junior Brandyn Tuttle tied his career and season-high with 21. Senior Quinn Henry dropped 15, junior Andrew Brelo finished with 8, seniors Nic Ingerick and Collin Pietropola both scored 6, freshman Joseph Grab added 3, and juniors Holden Kennedy and Tanner Button chipped in with two points each.
Prough finished with 5 assists, 5 steals and 4 rebounds, Henry had 6 steals and 4 assists, Tuttle grabbed 8 rebounds, Ingerick added 4 steals, and Brelo finished with 4 assists and a blocked shot.
Wellsboro won the JV game 56-43 to improve to 4-1. Grab had a game-high 20 points and sophomore Ty Morral added 16.
The win imroves the Varsity team's record to 6-1 (4-0 NTL Large School Division). The team will be back in action on Wednesday, December 27 at St. John Neumann.