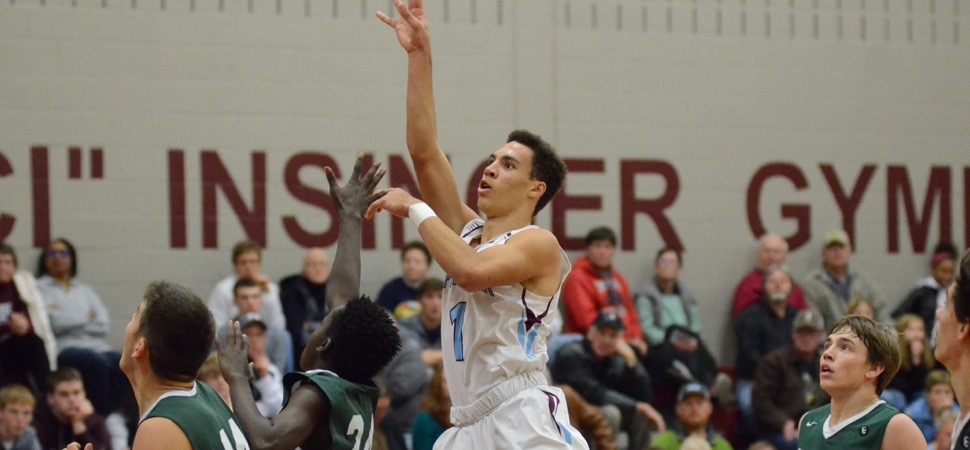 Loyalsock tops Wellsboro 52-38 to repeat as tournament champs
By: Ed Weaver | PIAA District IV | December 10, 2017 | Photo courtesy Brett R. Crossley
Loyalsock captured their tournament's title for the second straight year as they beat Wellsboro 52-38 on Saturday, December 9.
After an early Lancer three-pointer, Wellsboro battled back and led 13-11 after the first. The game remained close in the second quarter as neither team led by more than 6 points. Loyalsock won the quarter 14-12 as both teams were tied at 25-25 at the half.
After the intermission both teams struggled to score as the defenses tightened. Wellsboro edged the Lancers 7-5 in the quarter to lead 32-30 heading into the fourth quarter.
That's when it all fell apart for the Hornets.
Loyalsock outscored Wellsboro 22-6 down the stretch. As the Hornets started losing steam the Lancers capitalized on several Wellsboro turnovers and pulled away for a 52-38 win. Loyalsock's Mitch Klingerman scored 14 of his game-high 17 points in the fourth while Anthony Pastore scored 10.
Quinn Henry led Wellsboro with 16 points (4 three's). Brandyn Tuttle scored 11, Nic Ingerick added 7, Collin Pietropola scored 3 and Andrew Brelo pitched in a point. Tuttle was a rebound shy of a double-double.
Wyalusing 44, Blue Ridge 33
The Rams left the Susquehanna Tournament with a 2-0 record by knocking off Blue Ridge. The Rams jumped out to an early 16-8 lead and extended it to 33-14 at the half.
Chandler Brown scored 10 points to lead the Rams while Jon Morrison and Calvin Burke each scored 9 points. Will Martin pitched in with 8 points.
Whitehall 70, North Penn-Mansfield 57
The Tigers fell to 0-2 in the consolation game of the Loyalsock Tip-Off Tournament. Whitehall led 36-26 at halftime but North Penn-Mansfield outscored them 13-10 in the third to cut the lead to 46-39 to start the fourth. Whitehall, however, outscored the Tigers 24-18 in the final frame to close out the game.
Dylan Meyer led the Tigers with 19 points, Garrett David had 12 and Nick Kasper finished with 11. Jacob Green also hit 3 three-pointers to pitch in 9 points.
Susquehanna 60, Sayre 57
Sayre dropped a close game to host Susquehanna on Saturday. Trailing 21-13 after the first quarter the Redskins outscored Susquehanna 17-8 to take a halftime lead. Susquehanna then outscored Sayre 16-9 in the third to regain the lead. Sayre managed to outscore Susquehanna 16-15 in the final quarter but came up short.
Jordan Rockwell led the Redskins with 15 points, Ryan Murrelle had 14 and Nate Sweet added 12.
Other Scores
Lewisburg 54, Shenandoah Valley 32
Jersey Shore 66, Helen Thackston Charter School 62
MMI Prep 50, NEB 33
Sullivan County 55, Meadowbrook Christian 38
Chenango Valley 84, Athens 81
Cowanesque Valley 58, Oswayo Valley 41
Horseheads 53, Towanda 41
Williamsport 64, Franklin Learning Center 30
Millville 56, Milton 53
Bucktail 56, Northern Potter 53
Montoursville 66, Hughesville 60
Girls
Southern Columbia 43, Central Columbia 32
Southern Columbia won the Lady Jay Tip-Off Tournament for the second year in a row with a 12-point win over host Central Columbia Saturday.
Southern Columbia led 14-7 after the first half then outscored Central Columbia 29-25 in the second half for the win.
Abby Hagar led the tigers with 17 and Maddy Klock chipped in with 11.
Kristin Klingerman and Ellie Rowe both scoring 15 points each for Central.
Klingerman, Ellie Rowe and Maddy Klock were named to the tourney All-Star team; Southern's Jill Marks was named the tourney MVP.
Central (1-1) next plays at Mount Carmel on Tuesday.
Southern Huntingdon County 49, East Juniata 37
EJ fell to 1-1 after a 12-point loss to Southern Huntingdon County on Saturday.
Paris Feltman led EJ with 9 points while Carly Beaver and Thea Neimond scored 8 points each.
EJ hosts Greenwood on Tuesday, December 12.
Benton 39, Line Mountain 28
LM led 13-9 after an ugly first half. Benton turned turnovers into points to pull away in second half.
Dana Kingsbury paced Benton with 11 points, Landree Wilkin had 10 points, and Sadie Huntington added 8 points.
Sam Snyder led the way for Line Mountain with 9 points. Lacey Snyder, Maura Lundy and Autumn Czaplicki each hauled in 8 rebounds.
Northern Potter 41, Wyalusing 27
Wyalusing was outscored in three of the four quarters on Saturday in the consolation game of the Jack Bush Memorial Tournament.
Callie Bennett led the Lady Rams with 9 points, Sarah Bird scored 8 points and had 12 rebounds and 6 steals, Paige Robinson had 4, Emily Champluvier scored 3 to go along with 7 rebounds, and Hailey Jayne pitched in 2 points.
Northeast Bradford 59, North Penn-Liberty 24
NEB outscored Liberty 30-15 in the first half and 29-9 in the second to even up their record at 1-1. Aaliyah Bevacqua had 16 for NEB, Vicky Rought had 11 while Emilee Allis had 7 and Lindsay Moore 6.
Alyssa Remley had 7 and Emma Williams 6 for Liberty.
Wellsboro 57, Northwest Area 55
Wellsboro's Lizzie Poirier hit a buzzer-beater for a 57-55 win over Northwest Area in the Muncy Rotary Tournament championship game Saturday.
Northwest Area got off to a fast start and put up 20 points and took an 8 point lead. Northwest outscored Wellsboro 10-7 in the second to take a 30-19 lead into halftime.
The third is when the Lady Hornets started chipping away at the Lady Rangers lead.
Wellsboro put up 20 points in the quarter as senior Tory Self caught fire. Self scored 10 points in the quarter while Poirier and sister Emma Poirier, each scored 5 for the remaining 10. After the third ended the Lady Hornets trailed 47-39.
The fourth is when the Lady Hornets really shined as they went on an 18-8 run. Self scored 6 in the quarter, Emma Poirier and Cathryn Brought each had 2 and Lizzie Poirier had six. Wellsboro had the final shot with Poirier draining the game-winner off an assist from Self.
Lizzie Poirier finished with a team-high 23 and went a perfect 6-for-6 at the foul line. Self backed Poirier up with 21 points, 16 of which came in the second half. Emma Poirier finished with 9 and Brought and Rachael Tuttle pitched in with 2 points each.
Tuttle grabbed 17 rebounds, Brought had 9, Self had 7 and Lizzie Poirier finished with 5. Self also added 4 assists and 4 steals.
Self and Lizzie Poirier were also named to the All-Tournament team and Poirier was the Tournament MVP.
Other Scores
Sullivan County 47, Canton 33
Galeton 44, Williamson 40
Cowanesque Valley 46, North Penn-Mansfield 35
Western Wayne 51, Towanda 17
Sayre 41, Blue Ridge 32
St. Joseph's Catholic 57, St. John Neumann 38