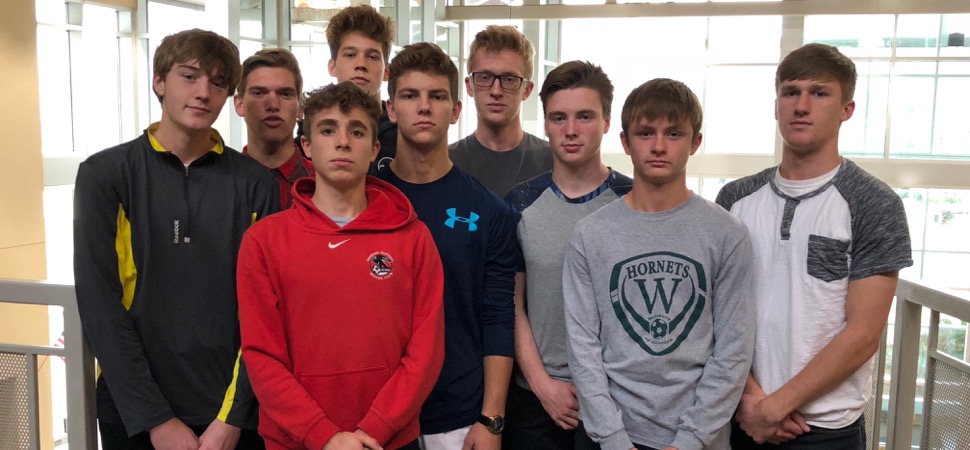 Nine Hornets named to All-Region Soccer team
By: Ed Weaver | PIAA District IV | November 30, 2017 | Photo courtesy Ed Weaver
Nine members of the Wellsboro Boys Soccer team were named to the Towanda Daily Review's All-Region Soccer team on Thursday, November 30.
Freshman Kaeden Mann and senior Gabe Leach took home top honors as Mann was named Newcomer of the Year and Leach was named Most Dangerous.
Mann scored 19 goals and racked up 7 assists in his first year of Varsity action.
Leach scored 11 goals on the season and had an area-leading 28 assists. Leach also surpassed the 50 career assist mark (55) in a 2-1 win over Millville.
Leach and seniors Tanner Runyan and Noah Fitch and junior Brett Rudy were all 1st team selections. Senior Nic Ingerick, junior Cam Tennis and Mann were 2nd team selections and Mann, senior Johnny Rowland and junior Nate Redell were named to the All-Rookie team.
Runyan led the Hornets with 29 goals and 73 points, and eclipsed 50 career goals (59) over rival North Penn-Liberty.
Fitch scored 21 goals on the season and made 11 assists and was an instrumental part of the Hornets advancing to the PIAA quarterfinals and winning the program's first-ever District IV championship.
Rudy was 2nd on the team in scoring with 23 goals, 59 points, and 13 assists.
Rowland scored 13 goals in his first year on the team while Ingerick and Tennis were key parts to holding opponents to just 12 goals the entire season.
Redell had a stellar 2017 season, making 89 saves and helping the Hornets to 14 shutouts.
WellsboroAthletics.com and WellsboroSoccer.com would like to congratulate Kaeden, Gabe, Tanner, Noah, Brett, Nic, Cam, Johnny, and Nate on their All-Region selections.
View the complete 2017-18 Towanda Daily Review All-Region Boys Soccer team.