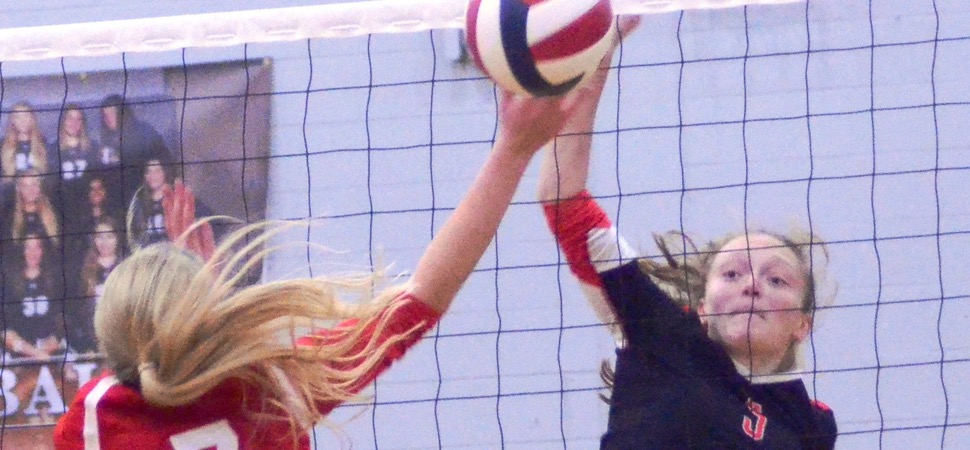 North Penn-Liberty falls to Holy Redeemer in first round of states
By: Brian Fees | Towanda Daily Review | November 8, 2017 | Photo courtesy Brian Fees
ATHENS — It's become a bit of a routine. The Holy Redeemer volleyball team makes its way up to Athens to take on an NTL team, and they leave with a victory.
For the second straight year, Redeemer brought an end to North Penn-Liberty's season in the state playoffs with a 25-16, 25-14, 28-26 victory.
"We are 3-0 at Athens actually. This is our third match here at sates, so we love coming here," Redeemer coach John Kalbick Sr. said.
Redeemer and NPL met in the preseason and both felt like that helped them prepare for Tuesday.
"We played these guys in the beginning of the year, we scrimmaged them, we actually beat them in the scrimmage," NPL coach Holli Smith said. "I saw on video they had gotten better and it was going to be a tough game. I thought my girls brought their A game. They played well, we had a couple moments on our serve receiver, but I have no complaints."
For Redeemer, the scrimmage was a good chance to scout a team they thought they might see for the second straight year in states.
"We got film, we had film on them, that's the reason we went there, because we figured we would get them in the first round of states because they returned everybody but one and we returned everybody but three," Kablick Sr. said. "We had film, we made copies of it, every player had a copy of the film, we watched it as a team, we watched it individually. You could get tendencies off it. We knew they were going to set outside all night. They had 1900 sets this year, 1100 were outside, so we knew where they were going to go."
Junior captain Julia Andrejko knows the Royals were ready for Tuesday's matchup.
"It was a far drive. That was a long drive for us. We came here, we wanted to win and we came out and showed it," she said. "We played our hardest, we beat them in three sets. We watched film, we practiced, we were ready for them, and when we come ready, we are going to win and we know it."
For the Royals, a lot has changed since the preseason scrimmage.
"We all are in new positions. Throughout the year, we got better and better. We showed we could beat them. We went out and didn't play our best (in the scrimmage), so if they came in and, thinking they were going to win, that wasn't going to happen, there was no way," Andrejko said.
"We had three starters that were on vacation. We were missing our two middles and we were missing our libero," Kablick Sr. said. "We played well. We didn't go there to win, we went there to see what we had."
The Royals cruised in the first two games, but things were different in the third game.
It was a back-and-forth set, with both teams having multiple set points.
"That was a little nerve-wracking," Andrejko said. "We had to calm down, we showed what kind of team we were."
The match was sealed as Sam Carr blocked the final NPL kill attempt to clinch it.
"That was awesome. Sam really stepped up," Andrejko said.
Redeemer knew that NPL would fight hard in that third set.
"We have great respect for NPL. That's a quality program. The girls are all good athletes," Kablick Sr. said. "We had a big block there by Sam Carr to end it. A lot of times, when you win the first two easily like that, there's a relaxation that comes in and it came in that third set."
The Royals are on to the second round of states. It's the 11th straight year Redeemer has won their state opener.
JoAnne McNamara had 11 assists and six digs, while Brooke Harvey had nine kills and 12 digs for NPL.
Charisma Grega had seven kills and four digs, with two blocks and Savanah Doney had five assists, four digs and three kills.
Haley Monks had two kills and a dig.
Andrejko had 11 points, 11 digs, eight kills and an assist, with three blocks, for Redeemer and Dayna Belsky had two digs.
Carr had nine kills and a block and Maddie Guido had nine points, 17 assists and three digs.
Korren Hicks had seven points, 26 assists and three digs and Sarah Koderka had five points, an ace, an assist and 10 digs.
Sarah Liskowicz had nine kills and five blocks and Livia Moore had two kills and two blocks.
Skylar Osenkarski had 22 kills, 11 points, two aces and two blocks and Brianna Phillips had four kills.
For North Penn-Liberty nearly the entire team returns next year and they are excited to see what they can do.
"Everybody is back but one, so be ready," Smith said.