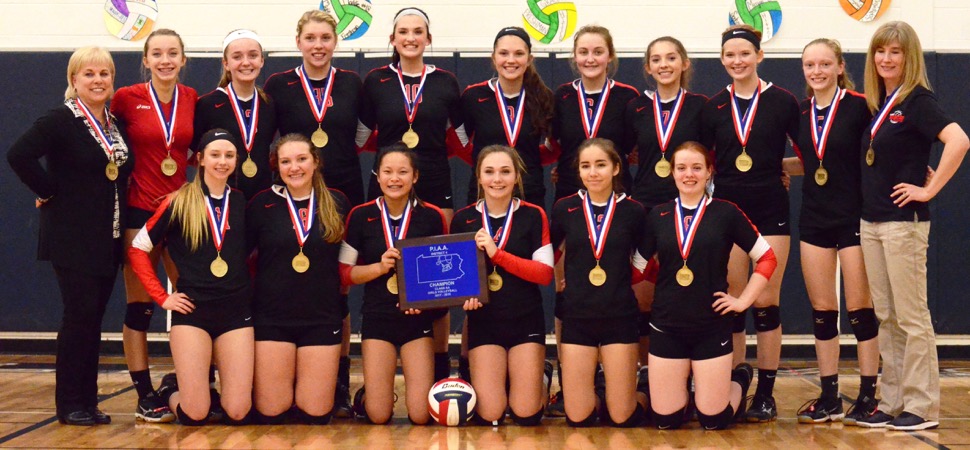 North Penn-Liberty repeats as District 4 Class AA champions
By: Brian Fees | Towanda Daily Review | November 3, 2017 | Photo courtesy Brian Fees
TIOGA — All season long the North Penn-Liberty Mountaineers have dominated match after match. NPL lost just three games in dual meets throughout the regular season.
On Thursday it looked like that domination would continue in the District 4, Class AA playoffs as they won the first game 25-17.
But, the Wellsboro Green Hornets wouldn't go quietly and NPL had to gut out a five-game win, 25-17, 22-25, 25-23, 21-25, 15-5.
"They (Wellsboro) are an awesome team, they played amazing, they gave us a great match," JoAnne McNamara said.
At the end of the day it was a second straight district title for NPL.
"It's great to be able to come back after losing four seniors," McNamara said.
"It feels amazing, we worked so hard to get here," Brooke Harvey said.
North Penn-Liberty has just one senior, and for freshman Charisma Grega the win gave her a first district title.
"It's amazing, I really wanted to do this all season, and my dream actually came true," Grega said.
North Penn-Liberty dominated in the first game, rolling to the win.
In the second game Wellsboro went up four, but North Penn-Liberty came back and were up 20-19.
However, Wellsboro kept fighting and a Caitlyn Callahan lead gave them a 23-22 lead and they would close out the match from there.
In the third game the Green Hornets were again off to a strong start, and they led 20-17.
However, North Penn-Liberty tied the game at 23 and a block by Ellianna Fry sealed the win.
The fourth game was much like the third game as the two teams went back and forth. Wellsboro was up as much at 16-12, but the match got within one at 22-21 on a Grega kill.
However, Callahan had a kill to put Wellsboro ahead and another kill by Callahan wrapped up the game for the Green Hornets.
After back-and-forth games for the previous three, NPL jumped out early in the fifth, leading 7-1 and 9-2 on their way to the win.
"We had to come out strong, this is what we worked for all season and we are a team and this is what we needed to do," McNamara said.
In that fifth game the fast start just began to build momentum for NPL.
"We just gained momentum and it kept building," Harvey said. "We never doubted ourselves."
And the energy in that fifth game was something the girls had never seen before.
"I can't even describe the energy, that's the best it's been all season," Grega said.
When Wellsboro fought back in the middle games the Mountaineers knew they had to keep focused and working hard.
"It was scary, but we knew if we worked together and pushed through we could do it," McNamara said.
"Always stay up, never get down and always work," Harvey said.
Grega had two aces, 20 kills, 23 receptions, a block and 24 digs and Harvey had 13 kills, an ace, 24 receptions and 22 digs.
Maddison Minyo had an ace, eight kills, six blocks and eight digs and McNamara had an ace, two kills, 26 assists and two digs.
Mariah Kshir had two kills, four blocks, 18 assists and six digs and Fry had five kills, three blocks and a dig.
Savanah Doney had an ace, 11 receptions and 18 digs and Haley Monks had two kills, a block, an assist and two digs.
North Penn-Liberty will face Holy Redeemer on Tuesday at Athens in the PIAA playoffs.
"I am very anxious, I am very excited," Grega said of making her first trip to states.
For North Penn-Liberty it's a second straight year they get to play Redeemer.
"Holy Redeemer is a great team, we played them last year and we are excited to play them again," McNamara said. "We are ready, we are going to try and come in as strong as we can and push through the first round this year."
After falling to Redeemer last year, the Mountaineers really want to get past them this year.
"We want it more than anything and we know we have to come together and if we come together we can do anything," McNamara said.