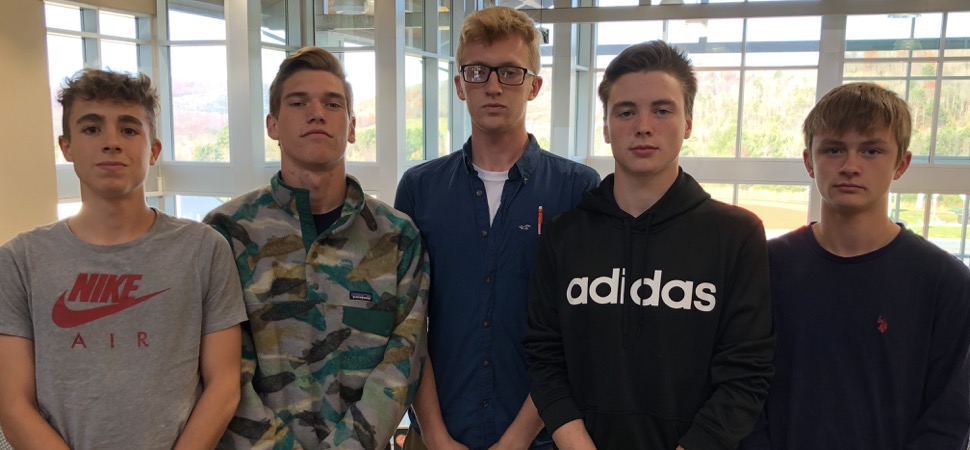 Runyan named NTL Offensive Player of the Year
By: Ed Weaver | PIAA District IV | November 8, 2017
Senior Tanner Runyan was named the Northern Tier League's Offensive Player of the Year as All-Star selections we announced on Tuesday, November 7.
Through 22 games this season, Runayn has scored 29 goals, the third highest in a single-season in Wellsboro Boys Soccer history, made 15 assists, has scored 73 points, and is 5-for-5 in penalty kicks.
"Tanner being selected as NTL Offensive MVP is a reward for all the hard work that he put in," said head coach John Shaffer.
In addition to Runyan's Offensive Player of the Year nod and First Team selection, five other Hornets join him on the list.
Senior Gabe Leach and junior Brett Rudy are both First Team selections in the midfield, junior Cam Tennis is a First Team defender, freshman Kaeden Mann is a Second Team forward, and senior Noah Fitch is a Second Team at midfield.
Leach has accumulated 11 goals, 27 assists, and 49 points along with reaching 50 career assists earlier in the season. Rudy has scored 23 goals, made 13 assists, and a penalty kick. Tennis has scored 7 goals from his defensive position and has helped Wellsboro record 14 shutouts on the season.
Mann has scored 19 goals, made 7 assists, and has 45 points in his first year as a member of the Varsity team. Fitch is third on the team with 21 goals to go along with 11 assists and 53 points.
"Gabe is very deserving based on how he can dominate every game. His stats do not begin to tell the story of how important of a player he is.Cam Tennis was selected first team defender and he represents the entire defense.
"I feel bad for many of the boys, considering we went 16-1-1 in the regular season and only ended up with 3 first team players is crazy," continued Shaffer. "Athens, who went undefeated in the league, only got 3 first team players as well. With that said, I am very happy for those who did get selected and are well deserving. In general I think all 11 starters should have been selected in some way. I always pick all-stars based on who would I take from around the league that would make my team better, and honestly there are very few players who I'm taking over my boys."
WellsboroSoccer.com and WellsboroAthletics.com would like to congratulate Tanner, Gabe, Brett, Cam, Kaeden, and Noah on their selections.
View the complete 2017 NTL Boys Soccer All-Star team.