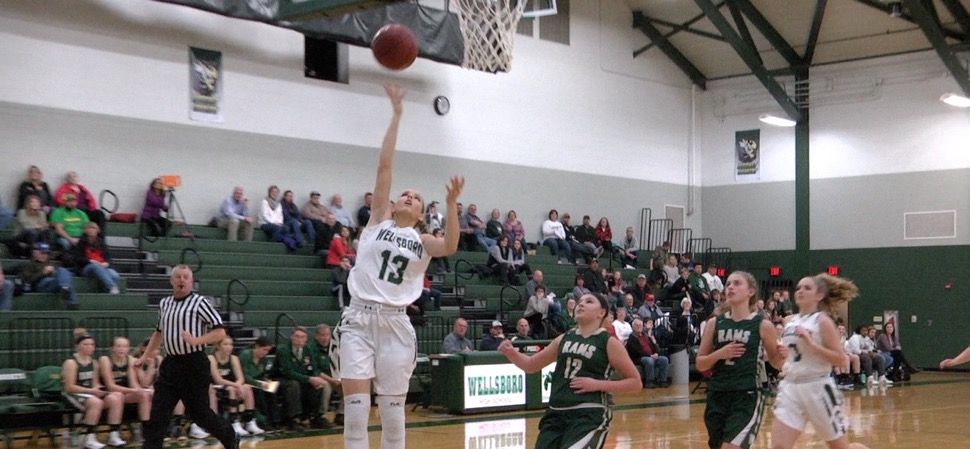 Self's 26 lead Lady Hornets past Wyalusing
By: Ed Weaver | PIAA District IV | December 23, 2017 | Photo courtesy The Home Page Network
A Wellsboro career-high 26 points from senior guard Tory Self led the Lady Hornets past Wyalusing, 67-18 on Friday, December 22.
Self single-handedly outscored Wyalusing in just three quarter of play and has now scored 129 points through the first 7 games (18.4 ppg).
"We did really well tonight getting up the floor. We usually miss a lot of layups and we did really well on those tonight," Self said. "We executed really well when we pushed it up the floor."
The Lady Hornets started out with 4 quick points from Self, two of the game's first possession, then two from her on the defensive end on Wyalusing's open possession. The Lady Rams would turn the ball over two times in their first three possessions, all steals by Self.
A deep two-pointer by senior Lizzie Poirier had Wellsboro up 10-3, then back-to-back steals and layups by Self extended the lead to 19-8 after the first quarter.
The second quarter is when Wellsboro did the majority of their damage, both on the offensive and defensive ends of the court. The Lady Hornets' swarming defense held Wyalusing to just one point, a foul shot by Hailey Jayne, for the entire quarter.
Self and the Wellsboro defense forced multiple Wyalusing turnovers on the quarter. The Lady Rams turned it over 19 times during the game.
On the offensive end in the second, junior Emma Poirier hit two long-range shots, Self hit a three, and Lizzie Poirier, senior Rachael Tuttle, and sophomore Cathryn Brought all pitched in with buckets. Self also found senior Mikel Shabloski wide-open under the basket for two layups.
As the first half came to a close Wellsboro held a 42-9 lead.
"It was a great team effort. Our passing looked great and just overall not many turnovers," Lizzie Poirier chimed in.
The Lady Hornets kept the attack on to start the third quarter and led by as much as 40 at one point, enacting the mercy rule midway through. Even with the running clock the Lady Hornets outscored Wyalusing 25-9 in the final 12 minutes and held the Lady Rams to just three made shots from the field.
"I'm happy tonight," said head coach John Davis. "This is the first home game this year where we've played well. Our offense was more fluid and the girls were getting good ball movement. Our defense was a little better. We made it a goal to play better defense. The last few games we were giving up more points than we wanted to and tonight we said 'lets shut these guys down and get a win.'"
"We've been trying to clean up our help side defense and defense overall," continued Poirier. "We know when we get to districts the play is going to be a lot better and we'll have a lot more competition."
Self finished with 26 for her fourth 20+ point game of the year in addition to 5 assists and 6 steals. Lizzie Poirier finished 15 and sister Emma Poirier had 13. Shabloski and sophomore Liza Manning both scored 4 off the bench, Brought added 3, and Tuttle rounded out the scoring with 2 points.
Emma Poirier added 12 rebounds for a double-double and Tuttle grabbed 11 boards. Lizzie Poirier and Brought also added 6 rebounds each.
Wyalusing won the JV game 37-8 to drop the Lady Hornets to 0-6.
The win improves the Varsity team's record to 7-0 (4-0 NTL Large School Division). The Lady Hornets are back in action against Danville on Saturday, December 30 with an 11:00 am JV start.