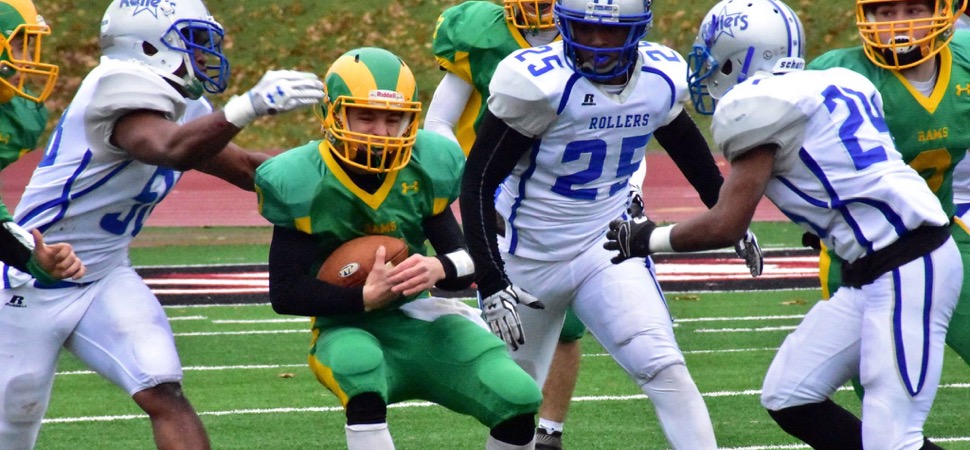 Wyalusing falls to Steelton-Highspire
By: Chris Manning | Towanda Daily Review | November 19, 2017 | Photo courtesy Coy Gobble
WILLIAMSPORT — Speed is something you can't teach and is hard to prepare for. On Saturday, Wyalusing found out just how tough it can be.
Steelton-Highspire used their athleticism to beat the Rams 45-7 in the first round of PIAA, Class A football action Saturday.
Jarvai Flowers was nearly unguardable at wide receiver with five catches, for 107 yards and two touchdowns for the Steam Rollers. He also ran for 41 yards on five carries.
Kavon Hope (two catches, 18 yards, one touchdown) and Javion Grant (two catches, 36 yards, one touchdown) showed off their depth at wide receiver while quarterback Malachi Young was efficient, going 8-for-13 for 165 yards and four scores with no interceptions.
"We just couldn't quite match up with their athleticism, but our kids played hard," summed up Wyalusing coach Jordan Clark.
Creighton Edsell ran hard, rushing for 62 yards on 14 carries while Domanick Otis had the team's touchdown with 32 yards on nine carries.
"We were going to try to pound the football and do what we do best, give it to Edsell up the middle and play a little bit of misdirection, and it worked for a little bit, but the problem with that is, if you have a negative play or two here and there, it's going to screw up the whole drive."
But Steelton-Highspire's secondary made Wyalusing pay when they went to the air. The Rollers picked off five passes while the Rams we're 2-for-12 for 22 yards as a team.
"They're just tremendous athletes," Clark said about Steelton-Highspire's secondary. "They're just a couple steps quicker than anything else we saw this year. You can't throw the ball up for grabs against those kids, they're Division-I athletes in the back perimeter for a reason. We were one dimensional and I understand, but I thought that was our best option to keep this game close and have a chance."
The weather foretold of rain, but even that didn't go Wyalusing's way as it didn't start until the second half.
"We were hoping for rain, first of all, to try and take away some of their passing game, but that failed us here," remarked Clark.
The Rollers got the opening kick-off on their 47 and went 53 yards on eight plays for their first touchdown. They converted two key third downs, a third-and-five at Wyalusing's 48 and a third-and-three on Wyalusing's 19. Both times it was Hope busting out a run to keep the drive alive.
Then on first down, Young hit Flowers for a 12-yard scoring strike. Nicholas Neidlinger added the point after and Steelton led 7-0 with 9:45 left in the first quarter.
Wyalusing got to work one their first possession, riding Edsell and Fuhrey into the Rollers' territory.
However, on fourth and three at the 41, Fuhrey threw a deep pass that was intercepted by Javion Grant.
Taking over on their own 20, Steelton put together an 8-play, 80-yard scoring drive that showed off just how explosive they can be.
On second down at Wyalusing's 33, Young was sacked by Jon Morrison to make it third and long.
That's when Young dialed up a deep pass to Flowers for a 47-yard touchdown to make it 13-0 with 6.3 seconds left in the first quarter.
Wyalusing's ensuing drive ended on the second play when Shykirr Johns picked off an Edsell pass.
Beginning at the Wyalusing 40, Steelton's next scoring drive went nine plays. They converted a fourth-and-two as Young scampered for four yards. Then on third-and-10, Young hit Flowers for a 22-yard gain, which set up a Young-to-Hope 12-yard touchdown strike.
Neidlinger's point after made it 20-0 Rollers with 7:17 left in the half.
After Wyalusing went 4-and-out, Steelton got the ball back. This time, though, they couldn't get the big play they needed to keep the drive alive and Wyalusing made back to back stops on third and fourth and two to turn it over on downs.
However, that success was short-lived as, on the ensuing Ram drive, Fuhrey's pass was tipped and Johns ran under. He took it to the house and the Rollers took a 27-0 lead into the half after the Neidlinger extra point.
Wyalusing started the second half much how they ended the first, with Fuhrey throwing his third interception.
Starting at the Rams' 32, Steelton went four plays for the score with Young punching it in from a yard out to make it 33-0 less than two minutes into the second half.
On Wyalusing's ensuing drive, Edsell got them to mid-field with a 15 yard run, his longest of the day but they would eventually turn it over on downs.
On the very next play, Young threw his fourth touchdown pass — this one a 40-yard strike to Grant to make it 39-0 with 7:14 left in the third.
After a Wyalusing 3-and-out, the Rollers had their first turnover of the game with a lost fumble. The two then traded punts followed by Wyalusing's scoring drive.
Otis started things off with back-to-back runs of 15 yards, followed by Calvin Burke, now at quarterback, going off on a 9-yard scamper.
Two plays later, Otis punched in the touchdown from 10 yards. Ismael Butron-Carvajal's extra point was good and Wyalusing cut it to 39-7 with 8:14 left in the game.
The Rollers had one more scoring drive left in them as well. On second and 11, back-up quarterback Nyles Jones broke a few tackles en route to his 46 yard touchdown run. The two-point conversion was no good but the Rollers made it 45-7 with 5:25 left in the game and that's how it finished up.
Freshman quarterback Mitchell Burke led Wyalusing in passing, going 1-for-3 for 17 yards and an interception. Riley God had one catch for 17 yards while Morrison had the other catch for five yards.
Showing off Steelton's depth Jones came off the bench to run for 86 yards on seven carries from the quarterback position.
"Hats off to Steelton-Highspire and their athletes," said Clark. "They were a great football team schematically but they were also great kids. They played the game the right way and hats off to their coach and them."
Clark believes that his younger players got good experience for next season, especially since the Rams will be moving up to AA.
"The kids are district champions, all the way from freshmen to seniors, and our younger kids got a chance to play in a state playoff game," remarked Clark. "Regardless of what the score was, it was a great experience."
As for the vaunted Wyalusing senior class that led them to their district title in 16 years, Clark is never going to forget them.
"These guys will always be my boys," he said. "It was my first senior class that I worked with. I could go on and on, every single one of these kids contributed one way or another. I'm proud of every one of them and every contribution they did for us."