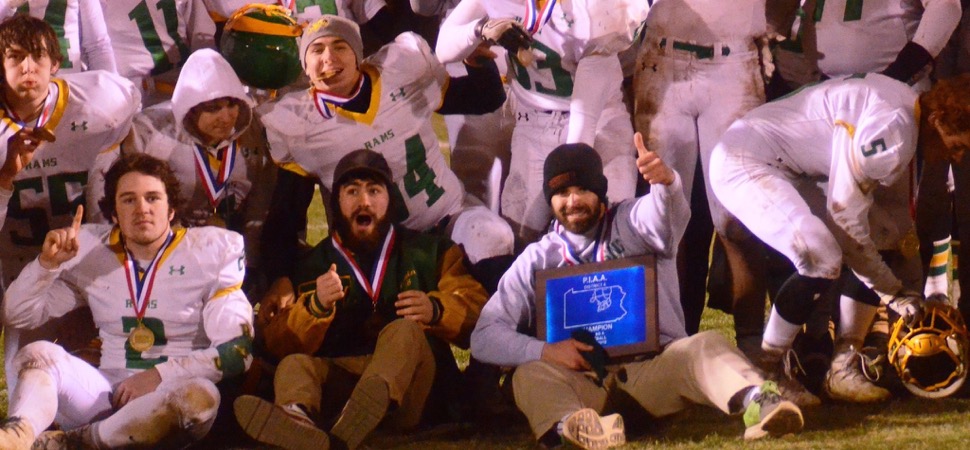 Wyalusing tops Montgomery for District IV title
By: Matt Beltz | Towanda Daily Review | November 11, 2017 | Photo courtesy Brian Fees
MONTGOMERY — Midway through the regular season and sitting with a 2-3 record following a disappointing two-point loss to Cowanesque Valley at homecoming, first-year Wyalusing coach Jordan Clark never lost faith in his team, even if others counted the Rams out.
The same could be said after the Rams lost four of their last five games even after they added state champion wrestler Creighton Edsell to the roster in week six, giving a boost to their running game.
That faith and confidence in his team was rewarded on Friday night as Edsell ran for 236 yards and three touchdowns and Wyalusing continued its Cinderella postseason run by defeated Montgomery 28-6 to capture the District 4 Class A championship, the program's first since 2001.
Wyalusing will play the winner of today's District 3 championship game between Fairfield and Steelton-Highspire next Saturday, Nov. 18 at 1 p.m. at Williamsport.
"I never doubted these kids at any point, I really didn't," said Clark. "We made a few adjustments after that homecoming loss and these kids really started to believe in themselves these last few weeks and they've showed what they are capable of doing. I think they did that when we played Towanda, which really brought out the best in us and these last two weeks have just cemented on that. I always believed we had a chance at this district championship.
"I was 10 years old the last time Wyalusing won a district championship. I remember listening to it with my dad at my old house in Towanda. I'm glad to bring this back for Wyalusing and these kids deserve all the credit. It's an unbelievable feeling."
The Rams captured the title on the back of Edsell and their running game, which outrushed Montgomery 295-76 as Wyalusing thoroughly dominated the line on both sides of the ball.
"I challenged them after the Wellsboro loss," said Clark. "We had a couple of bad weeks offensively so we really worked on scheme and fundamentals and have really gotten after it the last few weeks and they've gotten tremendously better and I'm really proud of them, I am of Creighton, and Will (Martin) for blocking so well for Creighton."
A two-minute segment leading into and coming out of halftime broke appeared to break Montgomery's back and after that sequence, the Red Raiders didn't seriously threaten to score until the game's final minute.
After Montgomery had cut a two-score Wyalusing lead to just one on a touchdown with just under a minute to play in the first half, Wyalusing took possession at its own 33 with under :50 to play. From that point, Shane Fuhrey completed four straight passes — to Riley God for 21 yards, to Will Martin for 15 and seven yards, and then to Jon Morrison over the middle for a 24-yard touchdown pass, giving the Rams their two-score lead back 21-6 heading into the locker room.
The Rams then received the second half kickoff and took possession at their own 31. After a one-yard loss on first down, Edsell took the handoff and broke loose down the right sideline for a 70-yard touchdown run, breaking several tackles along the way, to put Wyalusing up 28-6.
"Coach kept saying at halftime, if we score another one, that'll put them down in the dumps and I knew they were keying on me but I just found my way through and into the end zone," said Edsell. "When I first came out, our offensive line was struggling a little bit and there were some injuries but everybody has really picked it up and I can't thank my offensive line enough for helping me out and blocking so well."
From that point forward, Montgomery, which struggled for most of the night to get its offense in sync, only picked up four first downs for the remainder of the contest, all of which came in the latter half of the fourth quarter after Wyalusing had already burned out plenty of clock on offense after forcing the Red Raiders into three straight three-and-outs on their first three second-half possessions.
One of those possessions started for Montgomery at the Wyalusing 39 after a 43-yard kickoff return following Edsell's 70-yard run. But a sack of quarterback Brayden Strouse on a fourth-and-two gave the ball back to the Rams.
The only time the Red Raiders came anywhere near the end zone in the second half was on their final drive when it all academic anyway. On the final play of the game from the Wyalusing seven, Strouse was sacked for an eight-yard loss, putting a cap on the Rams' title.
"Our front seven is good. They're a good, physical group of kids," said Clark. "If they do their assignment, they're a tough bunch of kids to block and our secondary held on. I'm very proud of our defensive effort.
Earlier in the game, the teams had battled to a scoreless tie after the first quarter. Wyalusing drove down to the Montgomery 13 and the Montgomery 24 on its first two possessions, but turned it over on downs both times.
The Rams then got a break as Calvin Burke picked off a Strouse pass to give the Rams the ball at the Montgomery 41. After a 16-yard reception by God, Edsell broke free through the middle for a 25-yard touchdown run to put Wyalusing up 7-0.
The Red Raiders got as far as the Rams' 28 on their next possession, but were unable to move any further and punted. Wyalusing started at its own 20 and put together its longer drive of the night, a seven-play, 80-yarder that took just over three minutes and was capped by another Edsell touchdown run, this one from 13 yards out. A 33-yard pickup on a shovel pass from Fuhrey to Martin was a key play in that drive as Martin broke and spun his way out of several tackles to go for the big gain.
"We kept running the dive plays to get them sucked in and then once the opportunity came to run the shovel pass, we ran it and I saw a bunch of people cutting in so I spun out real quick, a couple of guys missed and it turned out to be a big play and we ended up scoring," said Martin. "We had great all around blocking, the linemen did great, the receivers blocked well out on the corner — it was just a good play."
Montgomery scored its lone touchdown of the game on its next drive as it got a 43-yard reception from Kennedy on the first play of the drive to flip field position, which had started at its own 35. Five plays later, Strouse escaped a sack several times on a third-and-16 play and found Kennedy in the end zone to pull the Red Raiders within a score despite them missing the PAT.
From that point, Wyalusing put together its four-play drive that took just :45 seconds to shift the momentum going into halftime.