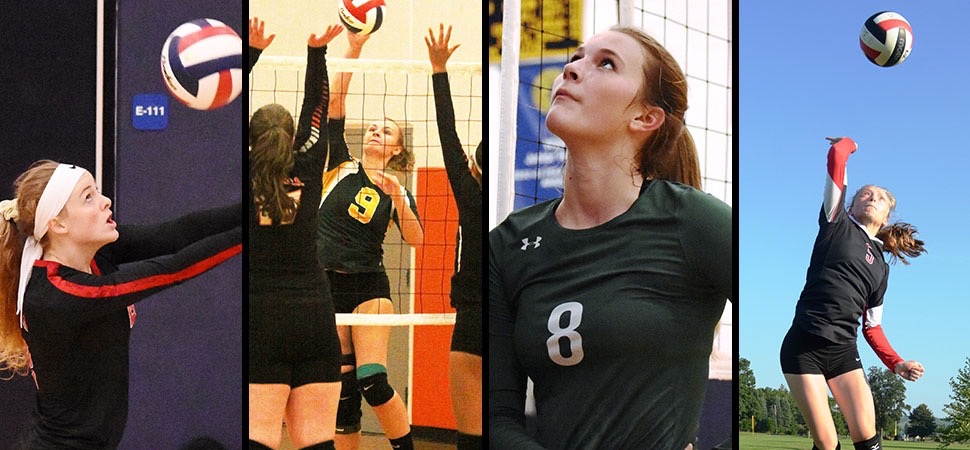 4 District IV girls named to All-State Volleyball team
By: Ed Weaver | PIAA District IV | December 7, 2018 | Photo courtesy Brian Fees
4 girls from District IV were named to the Pennsylvania Volleyball Coaches Association's All-State teams earlier in the week.
In Class A Canton's Caitlyn Pepper was selected while three in Class AA, Wellsboro's Caitlyn Callahan, North Penn-Liberty's Brooke Harvey, and Wyalusing's Melody Kneller, were picked.
Pepper finished 2018 with 62 kills, 196 service points, 57 aces, 108 digs, and 333 assists while leading the Warriors to a District championship.
"Caitlyn has worked hard her 4 years as a member of the Canton volleyball team," said Canton head coach Sheila Wesneski. "She has been the head of the offensive system since her sophomore year. It is a great feeling as a coach to have a player rewarded especially when it is one that has put in a lot time and work to get better. She has put in numerous hours sweating and playing to make her skills better. She is such a dedicated player – During her 4 years, she has played club in the off season and attended almost every open gym, even during the summer. She makes all that play the game with her and the younger players who watch her strive to be better players as well. This year she also recorded her 1,000 career assist. I am proud that I can say that I have had the privilege of coaching her. I think this honor was well deserved."
Callahan led Wellsboro in kills (318), was 2nd in service points (173) and attempts (261), was 2nd in digs (111), and 3rd in blocks (25). For her career Callahan has recorded 529 kills, 297 service points, 77 aces, 89 blocks, 139 digs, and 16 assists.
"I am very pleased that Caitlyn was named to the All-State team," said head coach Sharon Zuchowski. "She had a very good season and contributed to the success of our team this year. There are a lot of skilled athletes in the state so to get selected is a great accomplishment."
Harvey finished her senior year, which included a District championship, with 227 kills, 206 points, 48 aces, and 222 digs. Harvey was also named WETM TV's Overall Athlete of the Fall.
"Brooke has been a 4 year varsity player, she has received several awards including All-State for the last 2 years, overall District MVP for the past 2 years, overall League MVP for the last 2 years, Volleyball MVP for NP-Liberty for the last 2 years," coach Holli Smith said. "She is an all-around great athlete in both offense and defense. She reached and went beyond 500 kills and 600 digs while only playing 3 sets per game. Brooke is known for her phenomenal vertical. She can jump out of the sky!"
Kneller ended her senior season with 235 kills, 164 points, 75 aces, 19 blocks, and 277 digs.
"Melody has developed into an 6 rotation player who sees the court so well," Wyalusing coach Gayle Huffman explained. "She anticipates the play. Melody has a competitive spirit but is also team centered. She loves the game and being part of a team. She achieved 1,065 kills over her four year varsity starting career and also led her team in kills, aces, and digs this year."