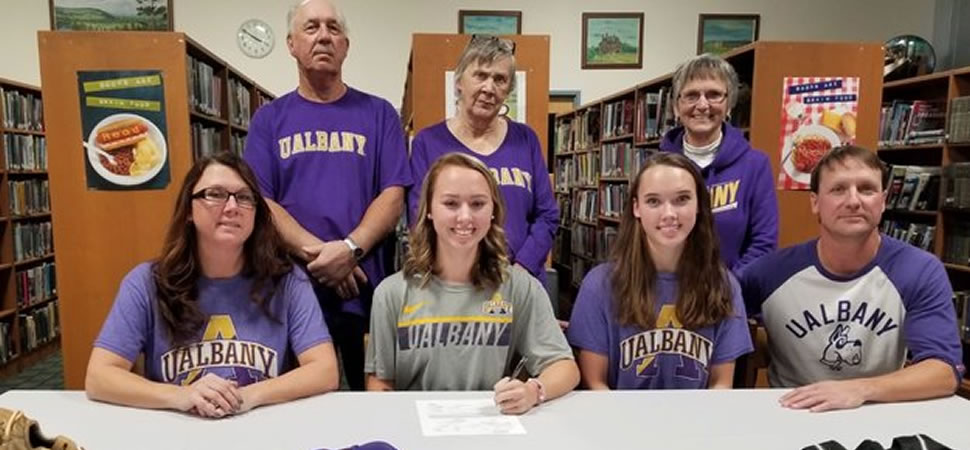 Adams signs to play Division I softball at Albany
By: Tim Birney | PIAA District IV | November 20, 2018 | Photo courtesy Tim Birney
ATHENS — Athens senior Emma Adams made it official Monday, signing a National Letter-of-Intent to play Division I softball at the University at Albany next fall.
Adams signed her letter in a brief ceremony in high school library surrounded by friends, family, and coaches.
Adams, who played travel softball with the Conklin Raiders program in recent years, said there were several things that drew her to Albany.
"It just felt like home," she said. "I have a (Conklin Raiders) teammate (Chenango Valley's Alexis Phillips) who is there right now, and she's told me how great it is there, and how much she loves the coaching staff.
"The school is amazing," noted Adams. I love the set up of the campus. And, the academics are very good.
"What really drew me there was their winning record," she added. "They win their league quite often, and last year they went to Oregon to play in their first Super Regional game. Going to a school that wins is something I really focused on, and Albany wins."
Another determining factor was Waverly senior Wendi Hammond also committing to play at Albany.
"We had always joked about playing at the same school, then the (Albany) coaches came to us and said they wanted both of us in the outfield," said Adams.
"(Alexis Phillips) already plays in the outfield, so the coach joked with me that (Albany) was going to have three Raider girls in the outfield," she added.
Adams, who also considered Division I Central Connecticut State and St. Peter's, as well as Division II Adelphi, will play the outfield at Albany.
"I definitely need to work on my range of throwing; that's one thing I want to get stronger on," she said.
"I can get faster in the outfield, and I can always be a better hitter," she added. "I know there are things I need to work on before I get there."
Athens coach Jim Wood, whose daughter plays at Division I St. Bonaventure, believes Adams made the right choice.
"I think it's a great fit for Emma," he said. "She's a hard worker, and it's great to see all of her hard work pay off.
"When she gets there, there will be some leeway for the Albany coaching staff because of her versatility," Wood noted. "She's a good offensive threat, and she covers all kinds of ground in the outfield. She could be a good utility player for them, too.
"I think she's going to do great, and I'm really happy for her," added Wood.
Adams, who verbally committed this summer, is happy she the decision made before her senior year at Athens.
"It's a very hard process," she said. "I don't think people tell you how hard it's going to be when you get into travel softball.
"I saw all these other kids committing during their freshman year, or their sophomore year, and here I am a junior, thinking 'what am I going to do, no one is going to want me,'" noted Adams. "Then, I end up going to a Division I school, so it all worked out.
"I'm definitely relieved, I'm happy that it's off my shoulders," she added.
Adams is leaning toward a Psychology major, but is considering criminal justice and business.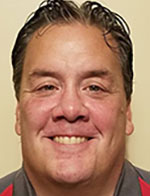 Tim Birney is the founder / owner of River Road Media Group. He was born and raised in the Valley, graduating from Waverly High School in 1984.
Birney earned an Associate's Degree in Journalism from SUNY Morrisville in 1986 and a Bachelor's Degree in Journalism / Public Relations from Utica College of Syracuse University in 1988. He began his newspaper career at The Daily Review in Towanda in 1989, before moving on to The Evening Times in 1995. He spent more than 10 years at the Times, the last four as Managing Editor.
River Road Media Group includes five sites in "The Sports Reports" family that cover 24 school districts in five counties: Valley Sports Report (launched Aug. 10, 2009), Tioga County (NY) Sports Report (Aug. 13, 2018), and Northern Tier Sports Report (Aug. 31, 2020); Northern Tier West Sports Report (March 15, 2021) Southern Tier Sports Report (Aug. 16, 2021).