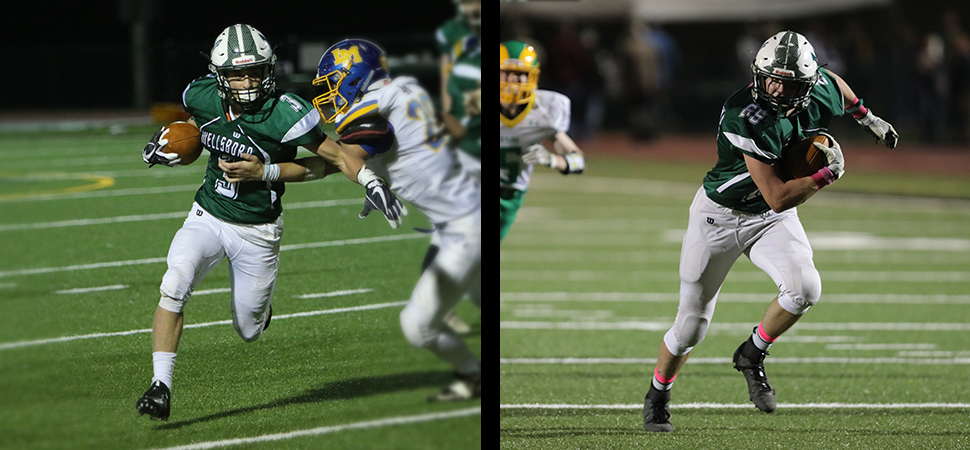 Brown, Hauser named to PA Writers All-State Team
By: Ed Weaver | PIAA District IV | December 28, 2018 | Photo courtesy The Home Page Network
Senior Hunter Brown and junior Aidan Hauser were named to the PA Writers All-State Class AA Football team on Thursday, December 27.
Brown was selected at defensive line while Hauser was selected as an athlete for his versatility.
Brown had a great senior season by not only leading the Hornets in tackles (105) from his defensive end position, but he also led the team in forced fumbles (4), recovered fumbles (3), and sacks (6). Brown's six sacks during 2018 broke Wellsboro's career sack record (14) to be the Hornets' all-time leader.
He also recorded a pick-six at Wyalusing and caught 4 passes for 73 yards and a touchdown against Troy in the District IV Class AA playoffs.
"Myself and the entire Wellsboro coaching staff are extremely proud of Hunter," head coach Matt Hildebrand said. "I cannot think of more deserving athlete. Hunter has worked very hard his entire high school career and for him to be named to the All-State team is such a great honor. He has been a selfless player during his time at Wellsboro, always doing what was best for the team and often playing many different positions. Hunter is a great ambassador for our program and for many younger players to model themselves after."
Hauser joins Brown on the All-State list as one of two at the athlete position. Hauser had a career year of 1,578 yards and 17 touchdowns rushing, he also threw a touchdown, caught 10 passes for 111 yards, returned 6 kicks for 236 yards and two touchdowns, and returned 10 punts for 191 yards and a touchdown.
"Aidan had a goal at the beginning of the year and that was to be selected to the All-State team," Hildebrand said. "As a coach is it very rewarding to see a player dedicate themselves to getting better each day and going after their goals. Aidan has worked very hard for this, not only this year but the previous 2 seasons leading up to this year, and to see him get the recognition he deserves is great. Knowing the type of kid that Aidan is this will only motivate him to go after his dreams even harder and continue to get better each day. I am very proud of Aidan and all that he has accomplished and also very excited to see him continue to get better and return next year."
View the complete PA Writers All-State Class AA Football Team.
View the complete PA Writers All-State Class AAAA Football Team.
View the complete PA Writers All-State Class AAAAAA Football Team.