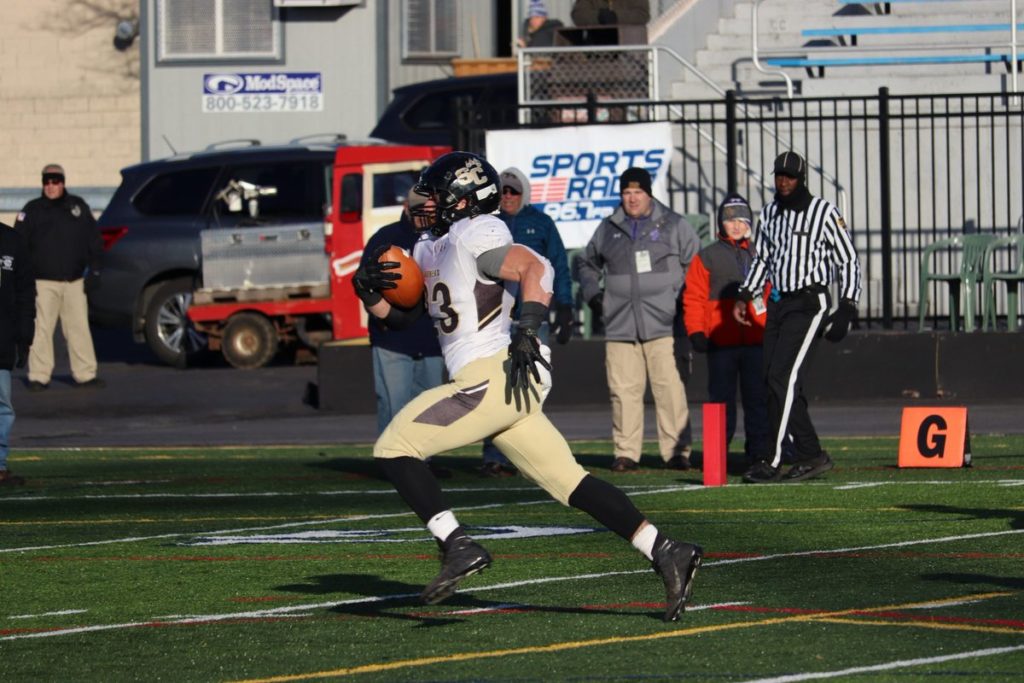 Tigers Go Back To Back
By: Dave Fegley | PIAA District IV | December 7, 2018
Strong second half propels Southern
Southern Columbia found themselves in an unfamiliar position Friday afternoon for the better part of the first half in the PIAA Class 2A State Championship. The Tigers were trailing for the majority of the opening half at Hersheypark Stadium against a Wilmington team that Southern Mercy Ruled in last year's state final. "Wilmington came in motivated. That's a program with a strong tradition and they came out ready to play. I'm sure there was some added energy with how we beat them last year" Southern head coach Jim Roth said about the Greyhounds. As championship teams do, the Tigers eventually found a way to win a state-record ninth state title by blowing away Wilmington after the halftime break.
A game that was tied at intermission 14-14, the Tigers came out and took complete control in the second half by rolling to a 49-14 Mercy Rule victory and claiming a PIAA record 9th state championship victory. In the first half, it was the Greyhounds front that was controlling the line of scrimmage on both sides of the ball. "It was all about motivation and execution. We came out fired up in the second half because we knew we were a better team than we showed in the first half," said Southern left tackle Oak Six.
Southern Columbia put together a long drive to open up the game, but after 13 plays, they fumbled to give the ball to the Greyhounds for their first opportunity. Wilmington put together a 97-yard scoring drive that took over seven minutes of game time to put them in front 6-0 early in the second quarter. "You have to give them credit. They found a way to force a turnover and put together that long drive," Roth said.
Ethan Susen scored on a two yard run on the Greyhounds third fourth down and goal opportunity in a row. The Tigers were called for two consecutive pass interference calls with one definitely being an incorrect call. "It was disappointing when they scored because we thought we had them stopped. We knew we had to keep our heads up and stay focused because there was a lot of game left," said Tigers defensive tackle Cole Schankweiler.
The Tigers offense couldn't get anything going on the next drive, just their second of the game thanks the the Greyhounds clock-control, so they were forced to punt at their own 47. That was if Julian Fleming was willing to do so. "It wasn't a designed fake. I saw the end was coming hard and I knew I could get the corner so I just took off," Fleming said. The 2018 Gatorade Pennsylvania Football Player of the Year picked up the first down to keep the drive going.
From that point forward, Gaige Garcia continued to show the state why he is on a record-setting pace for his career. The junior scored Southern's first touchdown on a five yard run and an Ethan Dunkelberger extra point put SCA in front 7-6. "You just have to have that attitude that you want to score on every play. We weren't getting the best holes in the first half and that showed how good of a defense Wilmington had," Garcia said.
With 1:28 left in the first half, the Greyhounds went back in front when Robert Pontius found Cameron Marett for a 12-yard touchdown pass in between the Tigers linebackers and secondary. "I am proud of the way our team played. They showed that they earned the right to be in the game during the whole first half against the best team in the state," said Wilmington first-year coach Brandon Phillian. A two-point conversion catch from Susen put the Greyhounds up 14-7. At that point, the Greyhounds had all of the momentum and were looking to make a final stop and get the ball to start the second half.
The only problem for Wilmington was that they scored a little too early. Obviously you take a score when you can get it in a state title game, but the Tigers found a way to answer. With just one second remaining, Stone Hollenbach threw a touchdown pass in his final high school game to Gaige Garcia from 32 yards out. Garcia caught it with a couple of defenders draped on him, but he wouldn't be denied. "I knew with the time remaining that I had to get in to the end zone. It was a streak pattern and I just caught it and fought forward as far as I could," said Garcia.
After a successful PAT, the teams went to the half tied at 14-14. Unfortunately, it appeared Garcia was actually down at the one-yard line, but it virtually evened out with both teams getting the benefit of the doubt from the officials on a touchdown drive in the opening half. "That was definitely the biggest play of the first half. Obviously it didn't put us up, but we were tied at that point," Hollenbach said. "The defense came out in the second half and took care of business allowing the Garcia brothers to score for us."
That started with 6:44 left in the third quarter when senior Shane Miller intercepted a Pontius pass and returned it to the Wilmington 35. That set up a Gaige Garcia 26-yard run to put the Tigers in front for good 21-14. After forcing a three and out, Southern Columbia extended the lead to 28-14 on the final play of the third quarter when Gaige Garcia scored a fourth touchdown. "Gaige just played an outstanding football game. He picked up a lot of yards after contact because the defense got to him pretty quickly on some of his big runs," Roth said.
The junior, who stood out on high school football's biggest stage, caught a 37-yard screen pass and was determined to score his fourth touchdown to give Southern a two-score cushion heading to the fourth quarter. With the touchdown, Garcia, who still has an entire season left, broke the school's all-time career touchdown record. He moved in ahead of Henry Hynoski who was part of four of the Tigers state championships as well as Super Bowl champion with the New York Giants.
Over the first sixteen seconds of the final quarter, the Tigers officially put the game out of reach. The Greyhounds offense needed an answer, but it all ended in a quick way. On the next drive SCA got another huge play from their senior defensive back. Miller intercepted another pass on the first play of the drive. Freshman Gavin Garcia got into the scoring mix on the next play when he took a reverse hand-off from his older brother and ran 37 yards for a score to make it a 35-14 lead. "It just feels amazing. I am so happy that we were able to win the state championship game again," Miller said. "Both of my interceptions came in zone coverage and I was just confident and jumped the routes."
The Tigers defense, led by Max Tillett, continues to post a second half shutout by forcing another three and out on the next drive. With 8:49 left in the game, Gaige Garcia scored his fifth touchdown on an 18-yard run. That touchdown put the Tigers up 42-14 and it tied Hynoski for the most touchdowns ever by a Southern player in a state title game. "You have to come out firing in these big games. All that momentum really gets me pumped up," said Tillett who had a team-high 13 tackles and four for loss in the game. "It's the championship game, so you have to give it all you have by making plays."
Gavin Garcia scored the game's final touchdown with 4:35 left to play to make the score 49-14. He took a handoff and juked out three defenders before racing 33 yards to the end zone. "It was disappointing after only playing one play before getting hurt last week. I knew if I was back healthy and able to play, I wanted to make the most of it," said Gavin Garcia who missed almost the entire game last week with a migraine.
Obviously, the Garcia boys stole the show on offense by scoring all seven of the touchdowns and each rushing for over 100 yards, but Gaige was sure to make it known that it took a full team effort. "In the first half we were tested. We regrouped and came out on a mission in the second half. Everyone really stepped it up and we were able to bring home a ninth state championship to Southern Columbia," said Gaige.
For the first time in state championship game history, the winning team won in Mercy Rule fashion after trailing with under a minute left in the first half. "I can't say enough of how our players kept their focus. We didn't make any huge adjustments at halftime. The coaching staff just told the guys that they needed to calm down and execute," said Roth after his 17th state championship appearance as the Tigers coach. "Most of the staff has been a part of all the state championship games and wins, so we have been in tight games like this before. It's really an overall team win from all angles."
Southern's 49-14 victory gave them 860 points on the season. That total ties them with Jeanette in 2007 for the most points ever scored by a state championship winning team in state history. They did it against a very good Wilmington squad that finished with just two losses on the year and both came from state champions. They lost by two touchdowns to Farrell in August and the Steelers won the Class 1A title the day prior.
It takes contributions from everyone to be crowned the top in the state. After the first half, the veteran Tigers offensive line was able to clear a little more space for the backs to work with. A junior star making a gutsy call of his own on special teams, and two interceptions by a senior were just some of the highlights. With the opposition shutting down Fleming by covering with two and sometimes three defenders, guys like Preston Zachman stepped up to make crucial catches. Joining Tillett with strong defensive games were a bunch of other guys that wouldn't allow the Greyhounds to find the end zone in the second half.
The victory was a fitting way for the senior class at SCA to go out. "We had a lot of great senior leadership this year. Those guys will certainly be missed and get to go out on top," said Roth. As for the junior class which is arguably the most talented one in school history, they have one more year to try and get back for another one. "We will enjoy this one and then next year our goal will be the same," Gaige Garcia said. For now however, the Tigers can put another golden football in their packed trophy display before Christmas.
SCA: 0-14-14-21 = 49
WIL: 0-14-0-0 = 14
SOUTHERN COLUMBIA (16-0)
Rushing:
Gaige Garcia 19-134, 3 TD's; Gavin Garcia 7-104, 2 TD's; Julian Fleming 1-19; Stone Hollenbach 5-18; Ty Roadarmel 7-17
Passing:
Stone Hollenbach 12-17-0, 166 yds, 2 TD's
Receiving:
Gaige Garcia 2-69, 2 TD's; Preston Zachman 4-68; Julian Fleming 6-29
First Downs: 23
Penalties: 5-44
WILMINGTON (13-2)
Rushing:
Robert Pontius 10-73; Noah Hunt 4-69; Cameron Marett 13-35; Ethan Susen 7-0
Passing:
Robert Pontius 5-13-2, 83 yds, TD
Receiving:
Cameron Marett 2-47, TD; Ethan Susen 2-13; Jacob Yohman 1-23
First Downs: 11
Penalties: 5-26