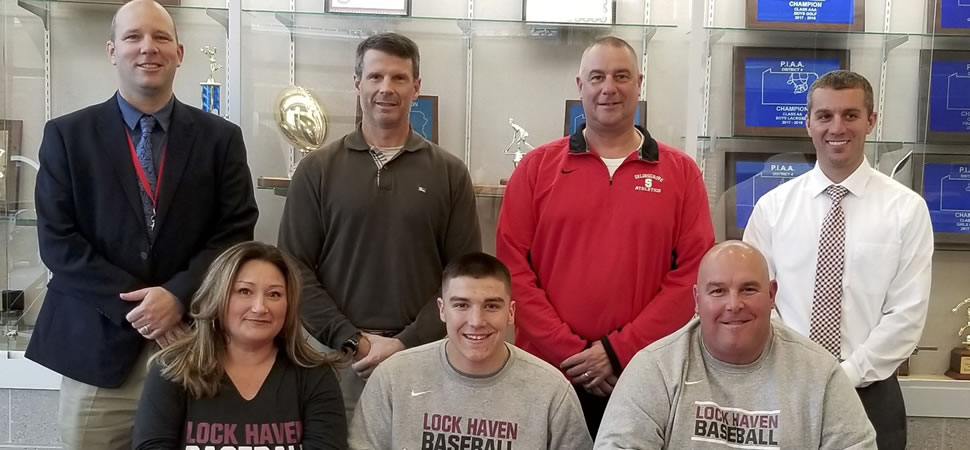 Zeiders signs with Lock Haven baseball
By: Ed Weaver | PIAA District IV | November 15, 2018 | Photo courtesy Selinsgrove Athletics
Senior Blaise Zeiders signed his Letter of Intent to play baseball next season at Lock Haven University on Wednesday, November 14.
Zeiders, a 4-year letterman for the Seals, has 129 career strikeouts in 107 innings pitched with 57 walks and a OBA of .240. At the plate Zeiders batted .210 as a junior with 14 RBIs.
When Zeiders, who is looking to contribute as a corner infielder or outfielder, first stepped on LHU's campus he immediately fell in love.
"It reminds me so much of Selinsgrove and it's a perfect distance from home. The coaches were also a big persuading factor for me making the decision to go there. I loved their intentions and they want to win and the type of player that i am i wanted to contribute to a winning culture, where each year they are competing in the PSAC which is one of the toughest conferences in Division II baseball."
While only seeing limited action during his freshman year Zeiders made an immediate impact for the Seals and helped beat Jersey Shore at the end of the year. Since that time Zeiders has been integral to Selinsgrove's success.
"Last season, he saw the most innings of any of our pitchers," said head coach Brent Beiler. "He is a very versatile player for us over the years as well. Blaise has played, at a high level, at first base, second base, outfield, and of course pitcher. We, as a staff, expect Blaise to be a 'horse' on the mound for us this season. Along with Logan Hile, I believe we will have one of the best duo of pitchers in the area."
Zeiders had a smooth recruiting process, which he credits to his parents, coaches, and travel coaches. Beiler also believes his personality will help him excel at LHU.
"He's liked by the staff and is a very coachable player. We expect him to be a leader as well as being a stellar player at the plate and on the mound. Going to Lock Haven, I believe, Blaise will fit in well with this program. His coachable personality and his desire to strengthen his skills should make him a huge asset for the Bald Eagles.I look forward to seeing Blaise play this season and beyond his high school career."
Zeiders credits Selinsgrove for getting him ready for the collegiate level.
"Playing at Selinsgrove has for sure prepared me to further my education and continue my career on the field," he said. "The sports culture that we have at Selinsgrove is phenomenal in every sport, and I believe it pushes all of the athletes to want to be the best in the area. We also have amazing teachers and administration here. They truely care about the students and want to drive them to reach their full potential."