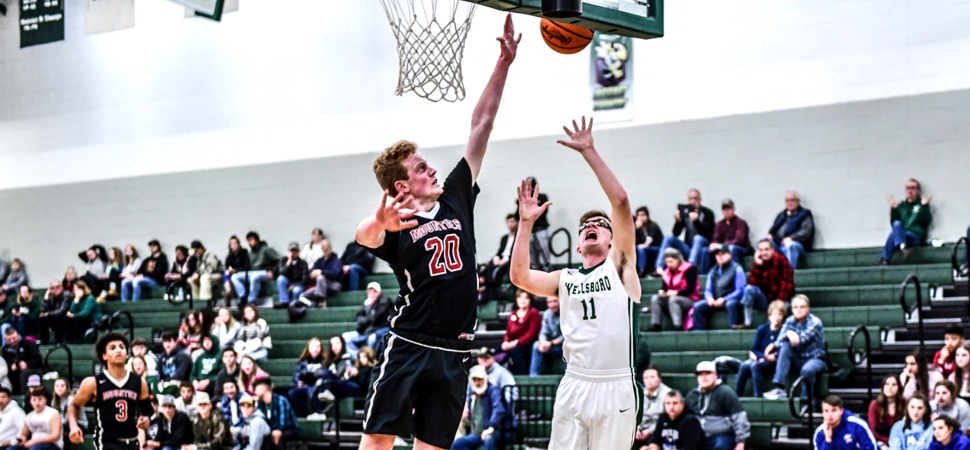 Hornets fall to Liberty in OT, 66-63
By: Ed Weaver | PIAA District IV | December 19, 2019
For 32 minutes Wellsboro and North Penn-Liberty battled back and forth, but at the end of regulation both teams were tied at 55. Four extra minutes were needed to decide the game, as the visiting Mounties held off the Hornets, 66-63 on Wednesday, December 18.
The win was the Mounties first over Wellsboro since the 2006-07 season, a span of 20 games.
"It was a little intense. It wasn't the game we were looking for, a little sloppy in the beginning, but a great battle by both teams," said Liberty head coach Brian Litzelman. "I think both teams played with their heart out here tonight, not a great 'chemistry' game but there was a lot of heart on both sides."
The entire game was even between both teams. Liberty held a slim 13-9 lead after the opening quarter. Wellsboro went on to outscore Liberty 11-7 in the second to tie the game up at 20-all at halftime. Liberty again outscored Wellsboro 16-14 in the third quarter to hold a 36-34 lead heading into the final frame.
The action heated up in the last 8 minutes of regulation. The Hornets went on an early run to regain the lead then held it down the stretch until under the three minute mark. At that point, Noah Spencer started taking over. With just 6 points over the first three quarters, Spencer scored 14 of his 26 points to start pulling Liberty back in it. Wellsboro held a 48-45 lead just under the three minute mark but Liberty kept chipping away to cut it to a point with 18.4 seconds remaining.
A pair of foul shots by junior Joseph Grab put Wellsboro back up three points until Spencer made his biggest shot of the night, a three-pointer from the top of the key, to tie the game up at 55-all to send the game to overtime.
Just as in regulation the overtime period was back and forth, only this time, fouls came into play. Both teams scored a majority of their points from the foul line during the final 4 minutes. With just over 90 seconds remaining the Mounties held a 59-56 lead until a pair of foul shots by sophomore Darryn Callahan cut the lead to 59-58. Liberty extended their lead back up to three on their next trip down the court, but again the Hornets cut the lead back to one, this time on a runner by senior Ty Morral.
On Liberty's next trip down the court Spencer was fouled and made a pair of foul shots to extend the lead back to 63-60, then extended it to five points on a bucket by Brandon Thompson after he blocked a shot attempt during Wellsboro's possession. With 13.2 seconds remaining sophomore Isaac Keane drained a three to cut the lead back to two points, 65-63. Spencer was again fouled, and hit 1-of-2 shots, on the Mounties' ensuing possession pushing the lead back to 66-63.
Wellsboro had a shot to tie the game up but it came up short.
"It was a good basketball game but not the outcome we wanted," head coach Steve Adams said. "The kids fought hard, there are some things we have to take away from this game: we need to run our offense crisper when we have a lead, we have to limit teams to one shot when we have the lead, and we need to knock down shots at the end to win. We were in a position to win and tonight we didn't come out on top. Give the kids credit, they gave a great effort."
Spencer finished with 26 to lead North Penn-Liberty on the night while Colton Litzelman and Thompson both added 10 points each. Samuel Shedden also added 8 points.
Grab led the Hornets with 26 points. Keane and sophomore Liam Manning scored 11 points each, and Callahan had 7 points. Manning also grabbed 8 rebounds, Keane had 7 rebounds, 3 steals, and 3 assists, and Grab and Callahan each added 5 rebounds.
North Penn-Liberty also won the JV game, 33-28. Sophomore Ryan Sweet led Wellsboro with 9 points and freshman Peyton McClure added 8.
The win improves the Mounties' record to 4-1 (2-1 NTL Small School Division) while Wellsboro falls to 3-2 (2-1 NTL Large School Division). Both teams are back in action on Friday, December 20 with Liberty hosting Troy and Wellsboro traveling to Canton.