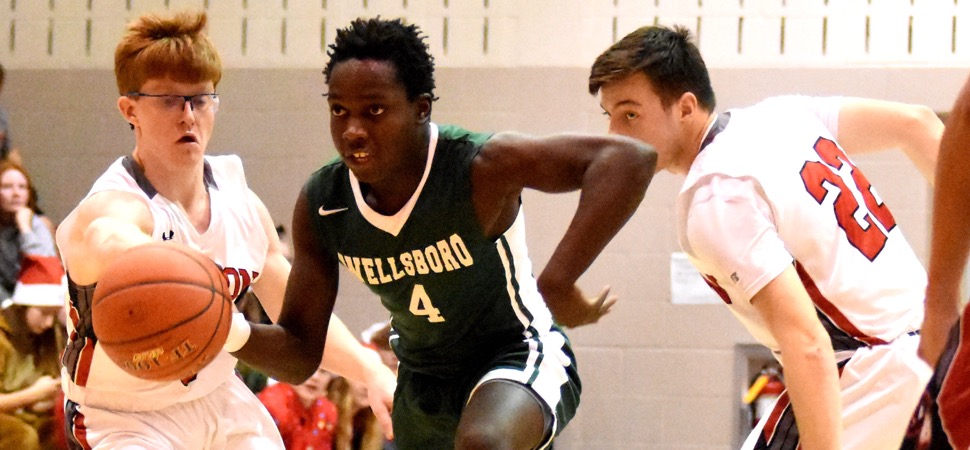 Hornets top Canton, 66-44
By: Ed Weaver | PIAA District IV | December 21, 2019
The Wellsboro Varsity Boys Basketball team rebounded from an overtime loss to North Penn-Liberty on Wednesday with a 66-44 victory on the road in Canton on Friday, December 20.
"That was a big win tonight," head coach Steve Adams said. "I like the way we came to play tonight. We distributed the ball the ball the best we have all year and had balance scoring. It was a total team win. We have tough games coming and we are looking forward to the challenge."
Wellsboro jumped out to a 15-9 lead after the first quarter then went on a 19-8 run in the second to build a 34-17 halftime lead.
Canton rallied in the third quarter and outscored the Hornets 21-13 to cut Wellsboro's lead to 9 points, 47-38. Wellsboro went on to ourscore Canton 19-6 over the final 8 minutes to claim the win.
Four Hornets scored in double figures on the evening, led by junior Joseph Grab with a game-high 20 points. Sophomore Isaac Keane scored 12 points and grabbed 7 rebounds, sophomore Liam Manning scored 11 points, and sophomore Darryn Callahan finished with 10 points. Freshman Conner Adams had 8 points and senior Ty Morral rounded out the scoring with 5 points.
Adams also added 6 rebounds and Grab dished out 7 assists.
Isaiah Niemczyk led Canton with 16 points and Caiden Williams dropped 10. Ben Knapp pitched in with 5 points.
Wellsboro started out the evening edging Canton, 46-44 in the JV game. Sophomore Ryan Sweet led the Hornets with 15 points, freshman Cameron Brought added 13, and freshman Peyton McClure scored 12.
The win improves the Hornets' record to 4-2 (3-1 NTL Large School Division). The team is back in action on Monday, December 23 against Jersey Shore.