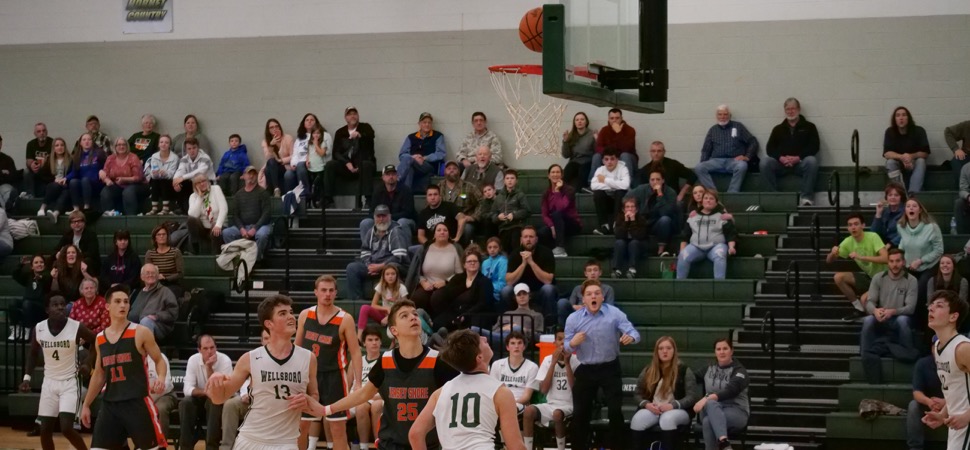 Keane buzzer-beater lifts Hornets over Jersey Shore
By: Ed Weaver | PIAA District IV | December 24, 2019 | Photo courtesy Dr. Robert Bair
Sophomore Isaac Keane hit a buzzer-beater to give the Wellsboro Varsity Boys Basketball team a 65-63 win over Jersey Shore on Monday, December 23.
"This was a big win over a quality team," said head coach Steve Adams. "The boys played hard for 32 minutes and found a way to win. Great effort by the whole team."
After a tied 23-23 score at halftime Jersey Shore went on a 17-10 run in the third quarter to open up a 7-point lead over the Hornets heading into the fourth quarter. The Hornets then went on the offensive scoring 32 points over the final 8 minutes for the win. Wellsboro managed to build a 10-point lead late in the game, only to have the Bulldogs erase that lead over the final 1:30 and tie the game at 63.
As the Hornets looked to score off the last shot with time running out the ball was slapped out of bounds from junior Joseph Grab's hands. On the inbound Keane hit a layup as time expired to give Wellsboro the win.
Grab had 20 points to lead the Hornets while sophomore Liam Manning added a career-high 19. Sophomore Darryn Callahan scored 12 off the bench, Keane finished with 8, and senior Karter Witmer rounded out the scoring with 2 points.
Manning had a team-high 10 rebounds for a double-double, Grab had 8 rebounds and 3 steals, Keane contributed 7 rebounds, 3 steals, and 3 assists, and Callahan added 4 assists.
Nate Ewing scored 35 points for Jersey Shore to lead all scorers on the night.
Jersey Shore won the JV game 55-17.
The win improves the Hornets to 5-2 (3-1 NTL Large School Division). The team will be back in action on Friday, December 27 against Lewisburg.