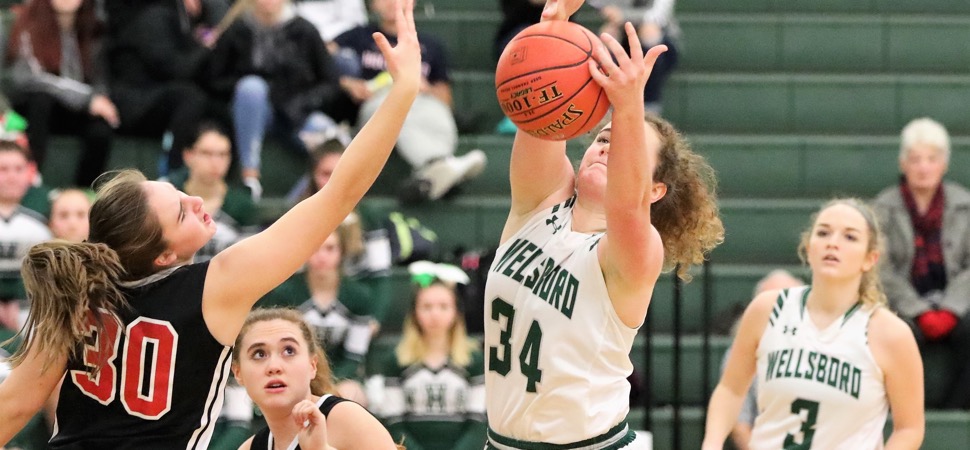 Lady Hornets score season-high in win over Liberty
By: Ed Weaver | PIAA District IV | January 4, 2019 | Photo courtesy Sarah Wagaman
The Wellsboro Varsity Girls Basketball team scored a season-high 71 points in a win over North Penn-Liberty on Thursday, January 3.
"It was nice to having 5 girls score 8 plus points," head coach Maureen Poirier said. "We were able to rotate all the girls throughout the game for court experience. As a team, we need to to continue to work harder defensively to win the bigger games."
The Lady Hornets jumped out to a commanding 24-3 lead as they held the Lady Mounties to just one field goal in the first 8 minutes. Liberty woke up in the second quarter and put up 16 points but Wellsboro outscored them 19-16 to lead 43-19 at the half. Both teams scored 14 points each in the second half and the Lady Mounties went on to outscore Wellsboro 16-14 in the final frame, but they were never able to overcome their first quarter deficit as the Lady Hornets won, 71-49.
Senior Emma Poirier led all scorers, and the Lady Hornets, with a game-high 21 points. Junior Cathryn Brought scored 14 points, sophomore Bailey Monks had 11, and junior Liza Manning scored 9. Sophomore Jena Boyce added 8 points, and senior Dani Hunt and sophomore Kiyah Boyce added 4 points each.
Manning added 13 rebounds to her point total, Brought had 7 steals and 4 assists, Boyce added 3 assists and 2 steals, Monks and Brought pulled down 6 rebounds each, and senior Heidi Zuchowski grabbed 5 rebounds.
Eva Rice led North Penn-Liberty with 20 points and Taylor Thompson added 17.
In the JV game Wellsboro pulled out their first win of the season with a 39-24 win. Sophomore Sarah Mosher and freshman Emma Coolidge scored 8 points each in the win.
The win improves the Lady Hornets' record to 3-5 (3-1 NTL Large School Division). The team is back in action on Saturday, January 5 against Jersey Shore.