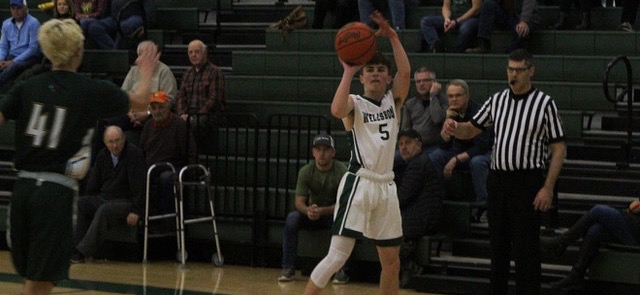 Lewisburg tops Wellsboro, 57-44
By: Ed Weaver | PIAA District IV | December 28, 2019 | Photo courtesy Nick Coyle
A poor third quarter performance cost the Wellsboro Varsity Boys Basketball team in a 57-44 loss to non-league Lewisburg on Friday, December 27 at Wellsboro.
After a buzzer-beating three-pointer by junior Joseph Grab cut the Green Dragons' lead to 25-24 as the second quarter buzzer expired the Hornets' offense went stale as they managed just one field goal and 5 points during the third quarter. Lewisburg managed only 10 points but extended their lead to six points, 35-29, to start the final quarter.
Lewisburg continued to open up the lead as the fourth quarter pressed on as the outscored the Hornets 22-15 over the final 8 minutes. Wellsboro managed to cut the lead to 10 late, but as the Hornets fouled to stop the clock to try and get back in the game, the Green Dragons knocked down their foul shots, 12-of-19, to preserve the win.
Grab led Wellsboro with 14 points and freshman Conner Adams added 12. Senior Daniel Mitchell and sophomore Isaac Keane had 6 points each while senior Karter Witmer, senior Ty Morral, and sophomore Liam Manning added 2 points each.
Peter Lantz scored a game-high 21 points for the Green Dragons. Nick Shedleski contributed 12.
Lewisburg also won the JV game, beating Wellsboro 56-38. Freshman Peyton McClure led the Hornets with 11 points.
The loss drops the Hornets to 5-3. The team will be back in action on Monday, December 30 against St. John Neumann starting at 1:00 p.m.