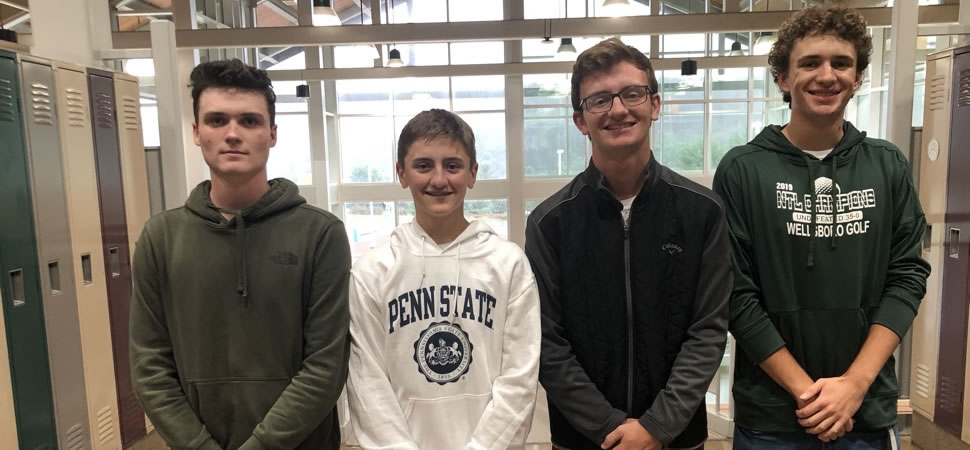 Morral, Propheta headline Wellsboro's NTL Golf All-Star selections
By: Ed Weaver | PIAA District IV | November 2, 2019 | Photo courtesy Ed Weaver
Seniors Ty Morral and Joseph Propheta were voted to the NTL All-Star Golf 1st team as the league announced their selections on Monday, October 28.
Morral and Propheta were both 1st team selections after qualifying for the Regional tournament and Morral qualifying for the PIAA tournament. Plus, senior Ethan Blakley and junior Brock Hamblin were both named 2nd team selections as Wellsboro led the way with 4 overall selections.
Morral led the Hornets with an 80.36 average and was 2nd in the NTL with a 78.71 average in league play. Morral finished in the top-10 in all 7 league matches Wellsboro played this season, was a 3-time medalist, and shot a season-low 75 at Shepard Hills.
"Ty worked extremely hard for the last four years to get to this point and has seen the reward for that hard with a great NTL season," coach Steve Macensky said. "Plus, making it through Districts and Regionals and all they way to the PIAA State Tournament. Not bad for only setting foot on a golf course for the first time ever the summer before his freshman year."
Propheta finished league play with the 3rd overall average (80.0), shot a low of 77 at River Valley, medaled at Tioga in Nichols, NY, and was a 7-for-7 top-10 finisher.
"Joe has been one of the hardest working players I have seen. His willingness to practice for hours has been unparalleled to any player I have coached. Joe has been willing to do whatever it takes to improve his game and help the team succeed."
Hamblin finished with the NTL's 7th best average (86.57), finished in the top-10 in all 7 league matches, and his best finish was a round of 85 for 3rd overall at Corey Creek.
"Brock is a natural athlete with great hand eye coordination. He has the ability to play consistent, steady golf no matter the course he plays. He has shown improvement every year and we look forward to his Senior year next year."
Blakely had the league's 11th best average (91.29) shot a season-best 87 at River Valley and finished in the top-10 3-of-7 matches.
"Ethan has been a part of the golf team for the last four years. This past summer Ethan set his mind to improving his game and being in the Top 6 on the team. He achieved that goal with a lot of hours of practice and play during this past summer. Being on the All-NTL second team was the payoff for all that hard work."
WellsboroAthletics.com and WellsboroGolf.com would like to congratulate Ty, Joseph, Ethan, and Brock on leading the Hornets to an undefeated NTL championship season, and being named to the 2019 All-Star golf team.
View the complete 2019 NTL Golf All-Star team.