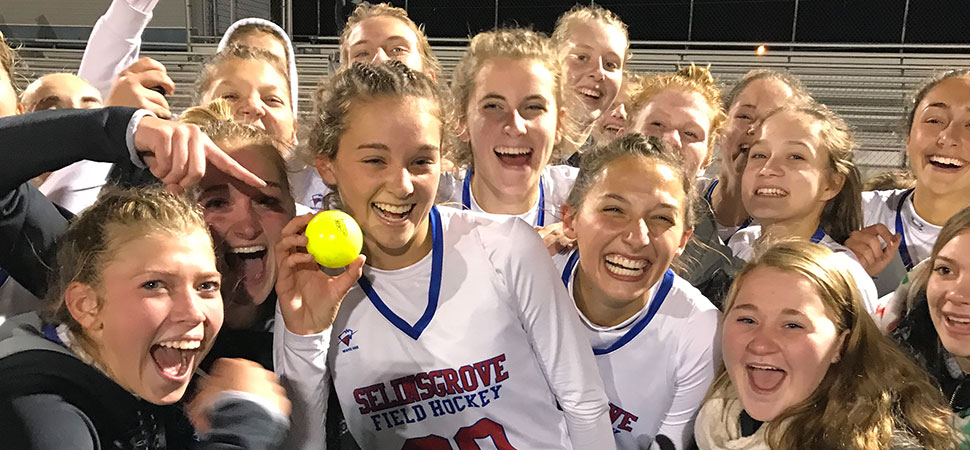 Swineford joins exclusive club as Selinsgrove field hockey rolls in first round of state playoffs
By: Selinsgrove Athletics | PIAA District IV | November 6, 2019
ALMEDIA - Emily Swineford scored 1:15 into the second half to become the fourth Selinsgrove player to amass 200 points in her career and the Seals defense stifflied the defending state Class 2A champion - Donegal - 7-1 at Central Columbia.
Selinsgrove allowed just one shot on goal in the first half as it built a 2-0 lead on unassisted goals by Jessica Alba and Maddie Bucher.
Swineford's goal made it 3-0 and she joins Keli Smith, Morgan Fleetwood and Alicia Mayer as Selinsgrove players that have scored 200 points on that list.
Donegal scored to cut the lead to 3-1, before the Seals scored four goals in the final 17:48 to put the game away.
Liv Reichley scored off an assist from Maddie Bucher to get it starter. Anna Gephart then assisted on back-to-back goals - one by Alba and the other by Maddie Bucher. Greta Widmaier capped the Seals scoring.
Selinsgrove (17-3) will carry an eight-game win streak into Saturday's quarterfinal matchup against District 3 third-place Twin Valley (17-8). That game will be at noon at Milton Hershey High School.
PIAA CLASS 2A FIELD HOCKEY
FIRST ROUND
At Central Columbia H.S.
SELINSGROVE 7, DONEGAL 1
First half
S-Jess Alba, 22:08; S-Maddie Bucher, 19:08.
Second half
S-Emily Swineford, 28:15; D-Emma Miller (Madison Leety), 24:49; S-Liv Reichley (M. Bucher), 17:48; S-Alba (Anna Gephart), 16:15; S-M. Bucher (Gephart), 14:46; S-Greta Widmaier, 5:03.
Shots: S, 10-6. Corners: S, 12-3. Saves: Donegal 3 (Christine Emswiler); Selinsgrove 5 (Mazzie Teats).