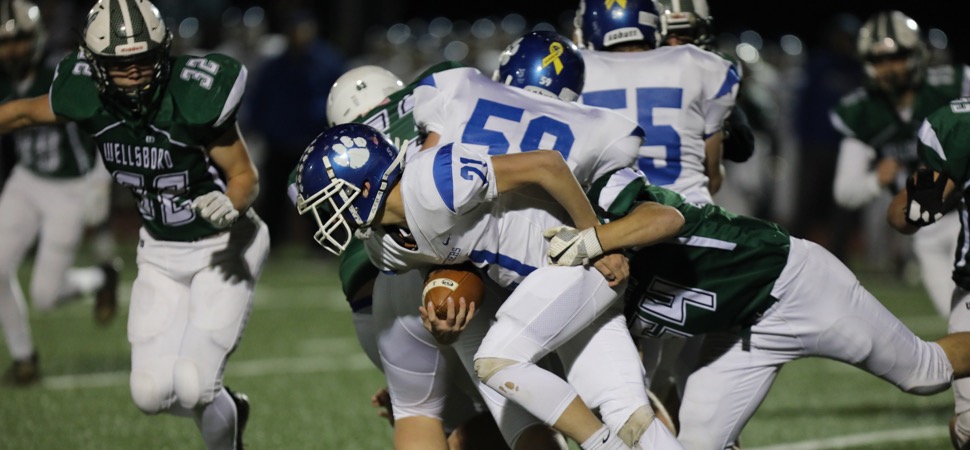 Turnovers doom Hornets in 17-14 loss to North Penn
By: Ed Weaver | PIAA District IV | November 3, 2019 | Photo courtesy Dr. Robert Bair
The North Penn-Mansfield Panthers forced 4 turnovers as they fended off rival Wellsboro 17-14 in the District IV quarterfinals at Wellsboro on Saturday, November 2.
"Give North Penn credit tonight," head coach Matt Hildebrand said. "We did not deserve to win this football game and they played better than we did. This is one that stings a bit. We could've had this one tonight and we let it slip through."
After forcing a 3-and-out Wellsboro took over at their own 9-yard line for their first drive, but turned the ball over as Mitchael Tice intercepted sophomore Isaac Keane and returned it 10 yards for the early touchdown.
Wellsboro's offense regrouped on the next drive as they started at their 42 after a 35-yard return by freshman Conner Adams. It took Wellsboro 3 plays to move into Panther territory and another two to move down the the Panther 25. Wellsboro eventually moved down inside the 10, but another interception gave the ball back to the Panthers and ended the drive.
After holding North Penn to another 3-and-out the Hornets took back over and quickly moved into Panther territory before the 1st quarter came to a close on runs by senior Logan Henry and Keane down to the 32. Once the 2nd quarter got underway it took Wellsboro just 5 plays to find the end zone as senior Alex Burrell fought his way across the goal line to knot the game at 7-7 with 10:06 left.
Midway through the quarter Wellsboro forced a Bryan Bogaczyk fumble back at the Panther 21. Wellsboro was unable to do anything with the possession as they were held on 4th down. The rest of the half was scoreless with both teams hitting the locker rooms tied at 7-7.
North Penn capitalized on another Hornet mistake as the 3rd quarter started. After forcing Wellsboro to punt, a bad snap gave the Panther excellent starting field position at the Wellsboro 22, which they turned into 3 points on a 22-yard Kevin Alexander field goal with 9:18 on the clock. Later the in the quarter, off a Wellsboro fumble, Colton Litzelman connected with Noah Spencer on a 35-yard diving catch to the Wellsboro 9. Two plays later Cameron Fabian threw a 6-yard pass to Kohen Lehman to put North Penn up 17-7 with 6:41 remaining.
Wellsboro looked to get back in the game as they put together a 14-play drive all the way down to the Panther 5, but their 4th turnover preveted a score, and gave North Penn back the ball. Wellsboro's defense forced a 3-and-out and a Panther punt, which senior Silas Wagaman fielded, found a seam, and returned it 63 yards to cut the Panthers' lead to 17-14 with 9:44 to go.
Wellsboro only had 1 more possession in the game, coming off an 11-play drive that ended on a missed field goal attempt, but were unable to move the ball and were forced to punt. The Panthers picked up a 1st down in 4 plays then ran out the clock to end Wellsboro's season.
Keane finished 8-for-20 through the air for 63 yards and led the Hornets with 77 yards on 10 carries. Henry rushed for 49 yards on 15 carries. Burrell (27), sophomore Darryn Callahan (25), and Henry (14) all caught 2 passes each.
Senior Tyler Hancock finished with 16 tackles to lead the Wellsboro defense with freshman Joe Brown adding 6 tackles and senior Clayton Orsborn pitching in with 4 tackles.
"I'm really proud of these guys and the senior class that we had come through here," Hildebrand continued. "Not only are they great football players but they're good human beings. They've been role models to my own kids and I'm proud of them."
Wellsboro ends the season at 9-2 while the Panthers advance to next week's District IV semi-finals where they will take on top-ranked Southern Columbia.