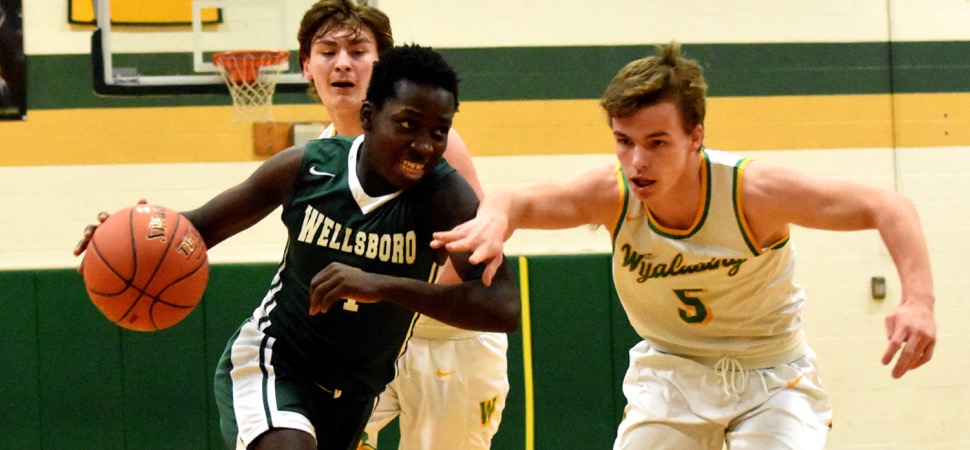 Hornets split pair of games to start the New Year
By: Ed Weaver | PIAA District IV | January 4, 2020
The Wellsboro Varsity Basketball teams split a pair of road games to start off the 2020 calendar year on Friday, January 3.
In NTL girls cross-over action the Lady Hornets won a lopsided 59-12 game at North Penn-Liberty. Wellsboro jumped out to an early 13-6 lead after the 1st quarter, then went on to outscore the Lady Mounties 46-6 over the final 3 quarters.
Senior Cathryn Brought and junior Bailey Monks each had a game-high 17 points to lead the Lady Hornets while sophomore Emma Coolidge had 10 points. Junior Kiyah Boyce scored 6 points, sophomore Emma Brandenburg added 4 points, Jordyn Abernathy scored 3, and senior Brieanna Tuttle rounded out the scoring with 2 points.
Brought added 7 rebounds and 7 steals to her point total, Abernathy had 5 steals and 2 assists, Coolidge had 9 rebounds, Monks grabbed 7 rebounds, and junior Sarah Mosher added 4 assists and 3 steals.
In the boys game the Hornets dropped their 3rd straight game in a 63-47 loss to Wyalusing. Wellsboro led 16-13 after the 1st and 33-30 at halftime, but the Rams shut down the Hornet offense in the 2nd half, holding them to just 14 points.
Junior Joseph Grab led 3 Hornets in double-figures with 20 points, sophomore Isaac Keane finished with 11 points, and freshman Conner Adams had 10 points. Seniors Ty Morral and Daniel Mitchell rounded out the scoring with 3 points each. Keane also added 5 rebounds and 3 assists.
Wellsboro (5-5, 3-2 NTL Large School Division) hosts Meadowbrook Christian on Monday, January 6. The Lady Hornets (3-3, 3-1 NTL Large School Division) host Canton on Tuesday, January 7.