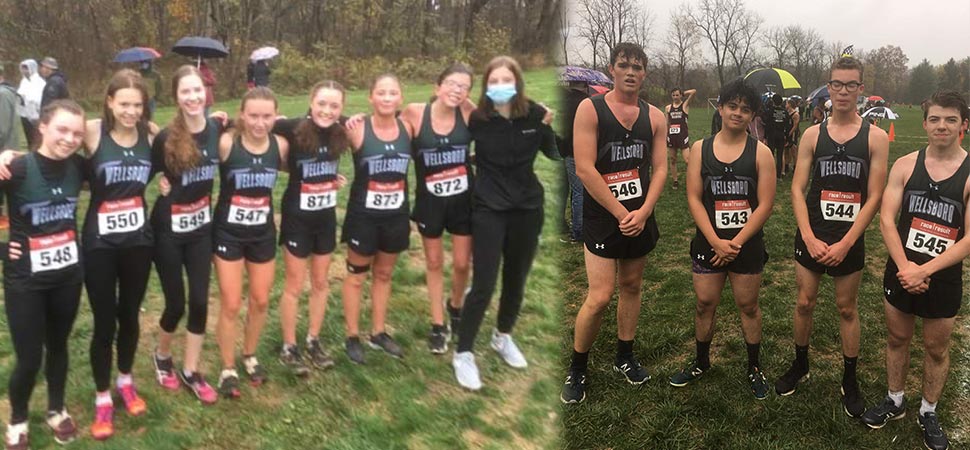 Lady Hornets finish 10th at Districts
By: Ed Weaver | PIAA District IV | October 30, 2020 | Photo courtesy John Weiner
The Wellsboro Girls Cross Country team finished 10th overall at the District IV Class AA Championships at Warrior Run on Thursday, October 29.
The Lady Hornets finished with 278 places. Warrior Run won the meet with 26 places, Danville (59) was 2nd, Selinsgrove (79) was 3rd, Lewisburg (93) was 4th, and Shikellamy (97) rounded out the top 5.
"From not being able to field a full team in the 2019 District Championships to being the top NTL team in AA District 4 --- going up against solid competition that included state title favorite warrior run high school, along with some other perennial powerhouses. Coach Karen Hoose and I are proud of not only their results but the inner strength and positive attitudes on display in these rather epic - less than ideal conditions. We are all grateful they got to finish a season many thought might not happen. Aidan, Aislinn and Anthony end their xc careers on determined notes in memorable monsoon weather. Lots to look forward to for wellsboro cross country with strong performances by Gabe and our girls squad led by Julia, Havah and Maddie Bryant."
Sophomore Julia DeCamp (23:45) finished 49th overall, sophomore Havah Simcox (24:17) was 53rd, junior Madeline Bryant (24:37) was 57th, senior Aislinn Hoose (24:48) was 62nd, freshman Madison Robbins (27:00) was 80th, freshman Maddy Callahan (27:07) was 83rd, and sophomore Madeline Gage (29:37) was 98th.
In the boys race junior Gabe Guignard (20:12) was 36th, senior Aidan Fletcher (20:54) was 42nd, junior Liam Manning (22:39) was 55th, and senior Anthony Dunkel (24:37) was 59th.
View the complete results of Thursday's District IV Cross Country Championships.