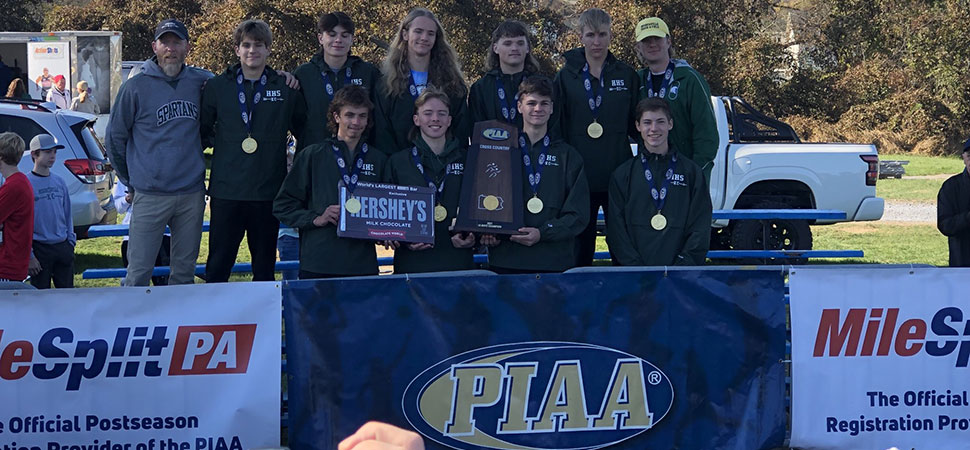 Hughesville, Lewisburg boys claim PIAA XC crowns
By: Ed Weaver | PIAA District IV | November 9, 2021 | Photo courtesy Hughesville Athletics
The Hughesville and Lewisburg Boys Cross Country teams each claimed PIAA gold in their respective classifications at the PIAA Championships in Hershey.
In Class A Hughesville took home the top spot with 97 places. Morgan Gavitt (17:05) was 7th overall followed by Hunter Foust (17:28) in 18th, Logan Long (17:59) in 32nd, Kenneth Draper (18:21) in 64th, Shea McCusker (18:28) in 77th, Cole Fortin (18:50) in 126th, and Camden Fetterman (19:01) 141th.
Wyalusing finished 19th overall with 405 team points.
In Class AA Lewisburg captured gold, (check on number of years), with 87 places. Jacob Hess finished 3rd overall in 16:05 followed by Thomas Hess (17:14) in 28th, Jonathan Hess (17:19) in 34th, Bryce Ryder (17:25) in 44th, Connor Murray (17:26) in 46th, Kieran Murray (17:36) in 56th, and Liam Shabahang (18:54) in 179th.
Danville finished 12th with 275 places.
In the Class A girls race Northeast Bradford came home 10th overall in the team standings and Wyalusing was 17th. In AA, Danville finished 4th overall and Lewisburg was 9th.
Congratulations to both Hughesville and Lewisburg on winning PIAA State XC championships.