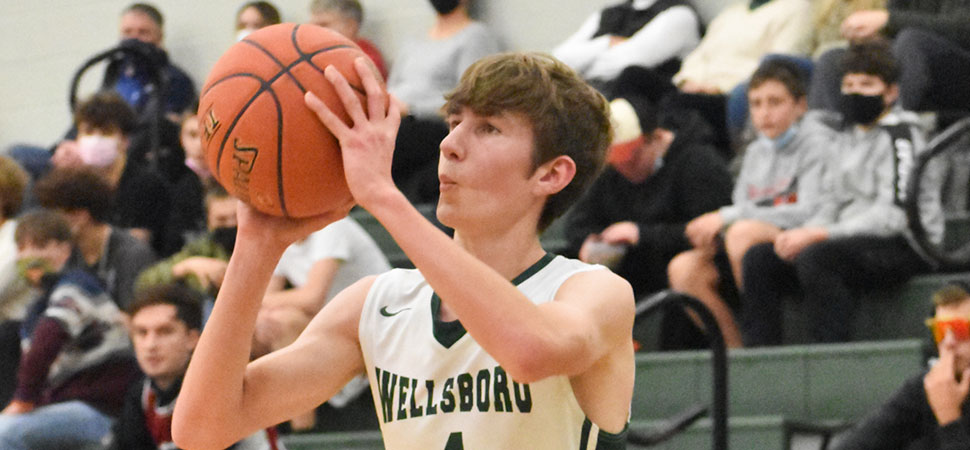 McClure's 21 leads Hornets past CV to improve to 4-0
By: Ed Weaver | PIAA District IV | December 23, 2021 | Photo courtesy Nick Coyle
Junior Peyton McClure scored a game-high 21 points in a 68-38 win over Cowanesque Valley at home on Wednesday, December 22.
The Hornets jumped out to an early 19-8 lead after the 1st quarter, but struggled in the 2nd as the Indians outscored them 16-12 to trail 31-24 at halftime. It was the 3rd quarter, however, where Wellsboro put the game firmly in their control, as they held CV to just two points to lead 48-26 heading into the 4th.
Wellsboro put together a 20-point 4th quarter, while working in their younger players in the closing minutes.
Two other Hornets were also in double figures on the night to join McClure. Senior Darryn Callahan finished with 14 points and senior Liam Manning added 11 points and 9 rebounds. Sophomore Hayes Campbell had 8 points, juniors Conner Adams and Cameron Brought scored 6 each, and senior Drew Manning chipped in two points. Adams also added 8 assists and 2 steals and Callahan and Brought grabbed 5 rebounds a piece.
Wellsboro started out with a win in the JV game, beating CV 46-26. Sophomore Caden Smith led Wellsboro with 14 and freshman Mitchel Lechler and sophomore Ian Hoose added 9.
The win improves the Hornets to 4-0 (3-0 NTL Large School Division). The team is back in action on Tuesday, December 28 at the Shamokin Tournament.