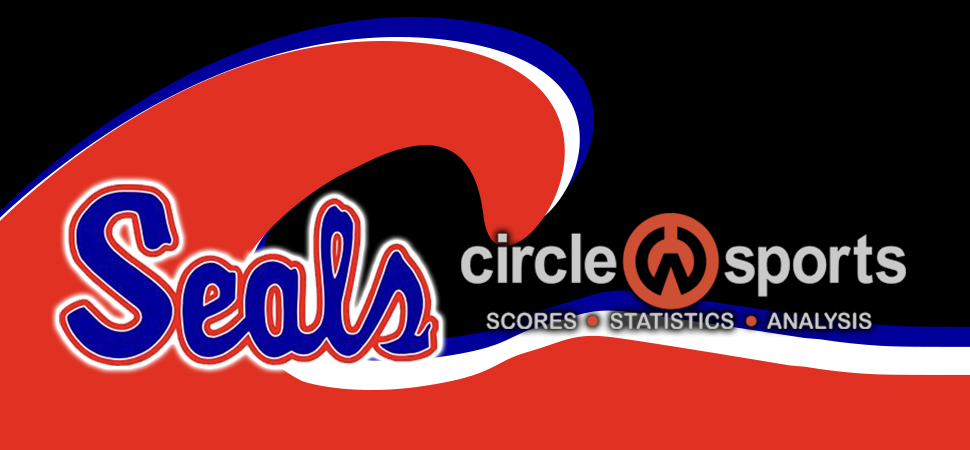 Selinsgrove rolls in District football opener
By: Selinsgrove Athletics | PIAA District IV | November 5, 2021
SELINSGROVE - Selinsgrove coach Derek Hicks spent most of the last two weeks hoping to avoid Shamokin in the semifinals of the District 4 Class 4A football playoffs.
The Seals coach was hoping to face somebody his team hadn't played four times over the last year.
Turns out, he didn't have much to worry about.
Brandon Hile scored four touchdowns - two rushing, 1 receiving and 1 punt blocked TD - as Selinsgrove rolled to a 49-13 win over Shamokin at Harold L. Bolig Memorial Field.
Hile watched the aftermath of last year's District 4 Class 4A semifinal with Shamokin.

And watching the Indians celebrate at Harold L. Bolig Memorial Field, well that just didn't sit right with the 6-foot-2, 205-pound senior.
"It's where all my motivation came from. I remember standing here watching them run across our field, and kind of us taut us a little bit," Hile, who also had eight tackles and a sack on defense, said. "I just came in here more focused than ever."
"We were battled tested; the kids are used to being in tough games," Selinsgrove coach Derek Hicks said. "They did a great job of jumping on Shamokin early."
The Seals (8-3) get another shot at 11-0 Jersey Shore in the District 4 Class 4A championship game next Friday night at Thompson Street Stadium. The Bulldogs beat Lewisburg, 48-7, in the other semifinals.
Shamokin finishes its season at 5-6. The Indians were outscored 92-27 in their final seven quarters this season.
The underdog Indians felt they had little to lose, so when faced with a fourth-and-one from their own 28, Hile was pretty sure that Shamokin senior Max Madden was getting the ball.
"From film study, I pretty much knew they were going to go up the middle," Hile said. "When you have a running back like Max, why wouldn't you?"
Hile crashed down the line scrimmage from the right side of the offensive formation, blowing up the play for no gain, and huge momentum swift early in the contest.
Selinsgrove's defense never let the Indians get untracked. For the second time this season, the first-team defense held Max Madden to less than 100 yards, before the senior broke through against the jayvee Selinsgrove defense. The Seals defense did the rest, limiting Shamokin to just 13 yards in the air, and though the Indians finished with 242 rushing yards, 170 of those rushing yards came after the score was 42-0 in the third quarter.
Corey Rumberger had 15 tackles in the win for Selinsgrove.
On the second play from scrimmage, Hile turned a 12-yard pass into a 30-yard score, breaking a tackle at the five-yard line to give Selinsgrove a 7-0 lead with 9:52 left in the opening quarter.
It turned into that kind of evening for the Selinsgrove offense. The Indians ran 19 more offensive plays, and only a sustained late drive by the Selinsgrove jayvees allowed the Seals and Shamokin to each finish with nine first downs.
However between Selinsgrove punt returns — 92 yards on two first-half returns, and a 52-yarder called back — the Seals' big plays — Hile had TD runs of 51 and 72 yards, while Gavin Bastian had 74-yard TD grab, Selinsgrove didn't need the ball much.
Selinsgrove sophomore quarterback Mark Pastore completed three passes, all for touchdowns. He also hit Steven Miller for a 13-yard score, the junior's first varsity touchdown.
"Mark has come a long way this year. You look at week one at Pottsville to where we are now (in Week 11)," Hicks said. "We can be balanced when we have to be."
The Seals would push their lead to 35-0 with 5:08 left in the first half, when Shamokin's Blake Hockenbroch tried a rugby punt to his right. Hile blocked the punt, circled back to pick up the bouncing football at the 25, and returned it for a touchdown.
Madden finished off his outstanding career with 140 yards on 25 carries, and a seven-yard TD in his final high school carry of his career. He'll finish his senior season with 1,488 yards and 18 touchdowns.

Wisdom Artis-Jones added a 78-yard TD run in the fourth quarter for Shamokin, while Selinsgrove offensive lineman Austin Fanelli jumped on a fumble to cap a 62-yard drive in the fourth quarter for the Seals' jayvee offense.
---
DISTRICT 4 PLAYOFFS
CLASS 4A SEMIFINAL
NO. 2 SELINSGROVE 49, NO. 3 SHAMOKIN 13
Shamokin (5-6);0;0;7;6 — 13
Selinsgrove (8-3);21;14;7;7 — 49
SCORING SUMMARY
First quarter
Sel-Brandon Hile 30 pass from Mark Pastore (Carter Young kick)
Sel-Hile 51 run (Young kick)
Sel-Steven Miller 13 pass from Pastore (Young kick)
Second quarter
Sel-Gavin Bastian 74 pass from Pastore (Young kick)
Sel-Hile 25 blocked punt return (Young kick)
Third quarter
Sel-Hile 73 run (Young kick)
Sham-Max Madden 7 run (Carson Ososkie kick)
Fourth quarter
Sham-Wisdom Artis-Jones 78 run (kick failed)
Sel-Austin Fanelli fumble recovery in end zone (Caleb Hicks kick)
TEAM STATISTICS
;Sham;Sel
First downs;9;9
Rushes-net yards;40-242;25-187
Passing yards;13;117
Passing;3-11-0;3-7-0
Fumbles-lost;1-0;3-1
Penalties-yards;3-30;4-27
INDIVIDUAL STATISTICS
RUSHING — Shamokin: Max Madden 25-140, TD; Wisdom Artis-Jones 1-78, TD; Brian Joviel-Martinez 3-17; Aaron Frasch 3-15; Tyler Whary 2-5; Ayden Mikulak 2-5; Corey Adams 1-4; team 1-(-9); team 2-(-13). Selinsgrove: Brandon Hile 3-124, 2 TDs; Cale Bastian 3-37; Derek Holtzapple 5-24; Tucker Teats 6-12; Andrew Sassaman 1-5; Phil Gesumaria 2-0; Mark Pastore 4-(-15).
PASSING – Shamokin: Nye 3-11-0 for 13 yards. Selinsgrove: Pastore 3-6-0 for 117 yards, 3 TDs; Bastian 0-1-0.
RECEIVING – Shamokin: Colin Seedor 1-9; Frasch 1-3; Whary 1-1. Selinsgrove: Gavin Bastian 1-74, TD; Hile 1-30, TD; Steven Miller, 1-13, TD.