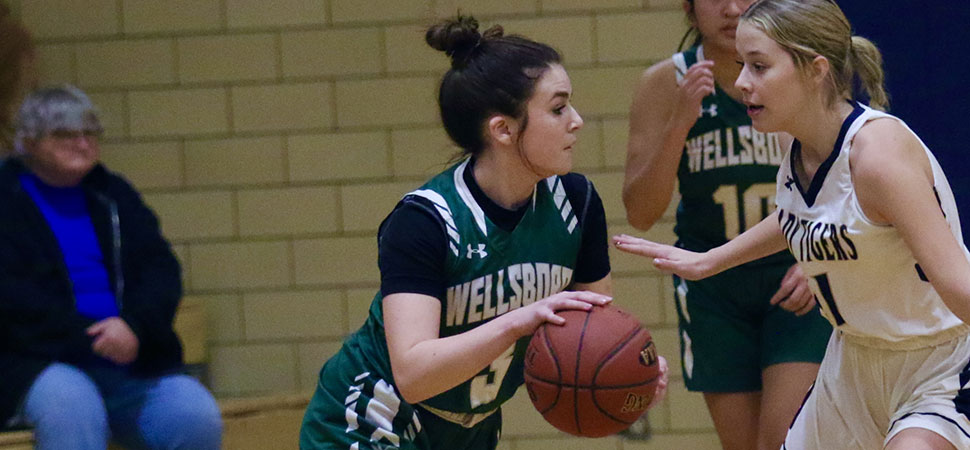 Brandenburg's 23 Points Lead Lady Hornets Past Mansfield
By: Ed Weaver | PIAA District IV | December 7, 2022 | Photo courtesy Lance Larcom/ntwsportsreport.com
Sophomore Chloe Brandenburg scored a game-high 23 points to lead the Wellsboro Varsity Girls Basketball team to a 45-31 win over rival North Penn-Mansfield to start their season on Tuesday, December 6.
"It was great to get a win in our opener," head coach Darrell Morris said. "We had to overcome some adversity and some foul trouble, but that gave our young team some great real game experience."
Wellsboro held a 13-6 lead after the opening quarter then outscored the Lady Tigers 16-9 in the second to lead 29-15 at the half. Mansfield outscored Wellsboro 8-5 in the 3rd but the Lady Hornets put together an 11-8 4th quarter to close out the win.
Brandenburg led all scorers with 23 points, including 4 three-pointers. Sophomore Paige Logsdon finished with a double-double of 13 points and 11 rebounds, senior Ella Posada scored 4, junior Maddy Mascho added 3 points, and senior Hailie Kerr chipped in with two points. Logsdon also added 3 assists, 4 steals and a block, Mascho and Posada each had a pair of steals and assists. Mascho also grabbed 5 rebounds.
Mansfield won the JV game 16-10 in double overtime. Junior Hannah Gilmour and freshman Lily Wagner scored 4 points each and freshman Jordan Rumsey added two points.
Wellsboro (1-0, 1-0 NTL Large School Division) takes on Muncy in the Muncy Rotary Tournament on Friday, December 9.