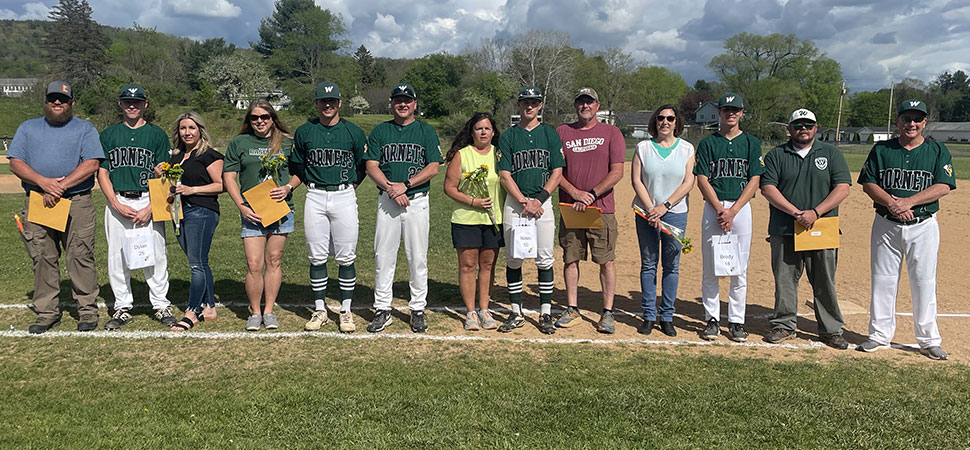 Hornets tie Shikellamy on Senior Night
By: Ed Weaver | PIAA District IV | May 14, 2022 | Photo courtesy Matt Rendos
The Wellsboro Baseball team tied Shikellamy in a non-league game during Senior Night on Friday, May 13.
"It has been an honor to coach these Seniors," said head coach Steve Adams. "I have had some in the game of baseball since they were 6 years old. Isaac and Dylan joined us in Little league and they fit right in. I always knew these guys would be a special group. We pushed them hard because we wanted to make sure we did everything we could to make them the best ball players they could be. They have met that objective and then some. I've been blessed to be around these guys and have gotten to see them grow and know them more than just athletes and I can say they are all outstanding people. Their parents have done a great job with them and I am thankful to have been their coach. It I'll be tough to not have them all around next year as they have meant the world to me. They are better people than they are players and as players they are great!"
Wellsboro found themselves trailing 2-0 early but battled back with a 3-run 3rd and 4th innings to take a 6-2 lead. The Braves scored 6 runs in the top of the 5th to go back in front, 8-6, but Wellsboro scored twice in the bottom half of the inning to tie the game at 8-all. From the 6th inning until the 8th, when it was too dark to play, both teams matched each other run for run to end in a 14-all tie.
"Tonight's game had a little bit of everything," concluded Adams. "We didn't win and we didn't lose but we got to be in a lot of different game situations that you can't replicate so we are thankful for that."
Senior Dylan Abernathy went 4-for-5 to lead the Hornets. Junior Conner Adams was 3-for-4 with two doubles, sophomore Caden Smith was 3-for-5, senior Isaac Keane and junior Cameron Brought were both 3-for-6, freshman Gabe Sprouse was 2-for-4, and senior Darryn Callahan and junior Blake Hamblin were both 2-for-5 with Callahan hitting a double.
Hamblin, Adams, Callahan, and Keane all shared time on the mound combining for 11 hits, 17 walks, and 4 strikeouts.
Wellsboro (12-4-1, 12-3 NTL Large School Division) is back in action for their final regular season game on Wednesday, May 18 at Coudersport for a non-league game.