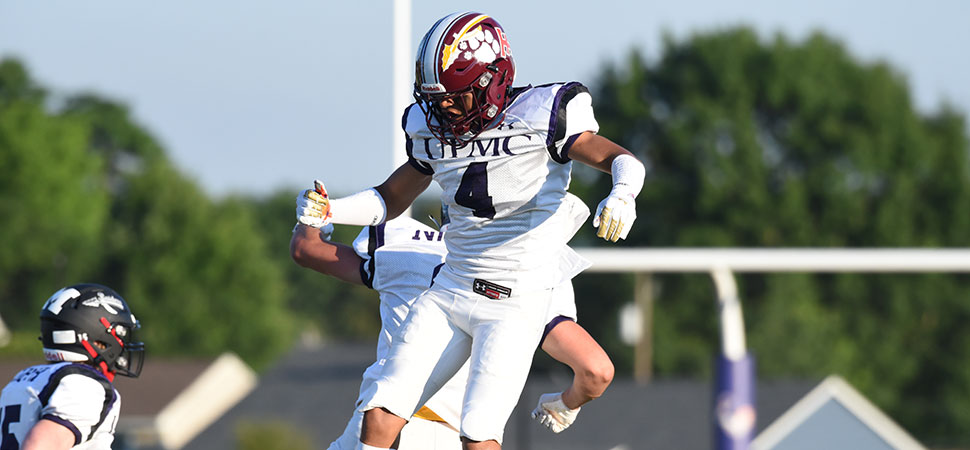 North Offense Wakes Up While The Defense Puts South Offense To Sleep
By: Billy Splain | PA Football News | June 25, 2022 | Photo courtesy Brett Crossley/Northcentralpa.com
It'd been a while since the District Four Coaches Association All-Star game had been played. The last game was held in 2019 with the South easily winning in South Williamsport. The Lions Club was the title sponsor but heading into the COVID-era they decided they couldn't do it anymore. Two years later D4 Association President & Loyalsock head coach Justin Van Fleet brokered a deal with UPMC and Geisinger to sponsor the teams and the All-Star game was awakened from a long "nap" with a new venue, Danville's Ironman Stadium.
As the game started, it seemed both teams were also waking from that long nap, neither squad able to do much offensively. Then with 5:32 left in the first quarter, one of the teams woke up. A fumbled punt gave the North the ball at the South three yard line and Montoursville's Rocco Pulizzi carried the pigskin in for the first score of the game.
On the South's next play Canton's Caiden Williams read the play perfectly, picked off Mount Carmel's Pedro Feliciano and returned the ball 17 yards to the end zone and just like the Team UPMC was on it's way to a dominating 36-0 win. The North outgained the South by a total of 328 to 81. Loyalsock's Naz Smith, who was named overall player of the game, hauled in 4 passes for 81 yards and the games next score, a 35 yard pass from Montgomery's Logan Almeida.
The Team Geisinger offense had no answer for Muncy's Bailey Hadzinikolov and Kade Sottolano of Cowanesque Valley as the duo was constantly in the South backfield seemingly before the ball was snapped. North-Penn's Cam Fabian and Montoursville's Maddix Dalena each had one yard touchdowns in the game.
Player Awards
Ken Robbins Offensive Player of Game (North) – Rocco Pulizzi (Montoursville)
Ray Raffin Defensive Player of Game (North) – Bailey Hadzinikolov (Muncy)
Joe "Jazz" Diminick Offensive Player of Game (South) – Pedro Feliciano (Mount Carmel)
Bill Scott Defensive Player of Game (South) – Aidan Herb (Line Mountain)
Jack Young Coaches Award (North) – Isaac Harris (Muncy), Cooper Kitchen (Canton)
Max Shnyder Coaches Award (South) – Aaron Rothermel (Selinsgrove), Mike Zsido (Southern Columbia)
Russ Manney Most Outstanding Player – Naz Smith (Loyalsock)