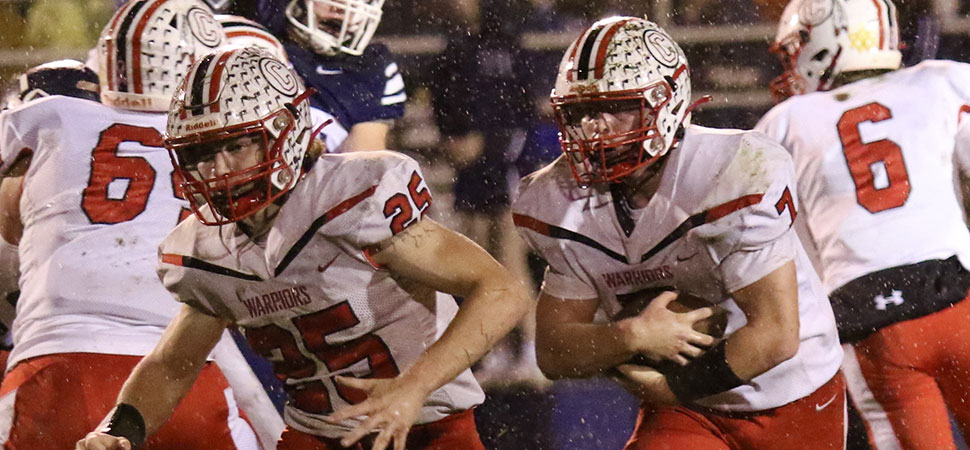 Warriors Repeat As District 4 Class A Football Champs
By: Chris Manning | PIAA District IV | November 13, 2022 | Photo courtesy Lance Larcom/ntwsportsreport.com
Canton shook off a slow start to dominate Muncy, 42-7, to repeat as District IV, Class A football champions.
The Warriors scored 21 points in both the second and third quarters en route to the rout.
"It feels great to win back-to-back district titles," said Canton coach Tyler Sechrist. "It just solidifies this team's place as one of Canton's best teams ever."
Riley Parker led a team effort that saw Canton amass 338 yards on the ground, and pick up 19 first downs. He finished with 119 yards and four touchdowns on 17 carries, while Hayden Ward ran for 98 yards and a score on nine carries.
Weston Bellows finished with 71 yards on nine touches, Bailey Ferguson had 39 yards rushing on nine touches, and Michael Davis ran for 15 yards and a score on three rushes.
Ferguson was 1-for-4 for 17 yards, his lone completion to Bellows.
Despite the wet conditions, Canton didn't record a turnover, and had two takeaways from the Indians.
Hudson Ward led the team with 12 tackles, seven of them solo, while Hayden Ward had nine tackles, six off them solo, and two of them for a loss. Brenen Taylor added five tackles, with Austin Allen getting the interception as they held Muncy scoreless for the first three quarters.
"Our defense has played well all year," said coach Sechrist. "And they were excellent against a Muncy team that has been scoring an average of 40 points teams. Coach (Greg) Bellows does a great job preparing them every week."
Davis led off the scoring with a 5-yard run in the second quarter, with Ferguson's kick making it 7-0.
Parker then had back to back touchdowns runs of 17 and four yards. Ferguson nailed both PAT's for a 21-0 lead.
In the third quarter Hayden Ward ran for a 12-yard score, though the kick was no good, making it 27-0.
Parker's third touchdown was a 14-yard run. He also ran in the 2-point conversion to make it 35-0.
Parker then had a 3-yard run late in the third, and, combined with Ferguson's kick, made it 42-0.
Muncy would score a fourth quarter touchdown to prevent the shutout.