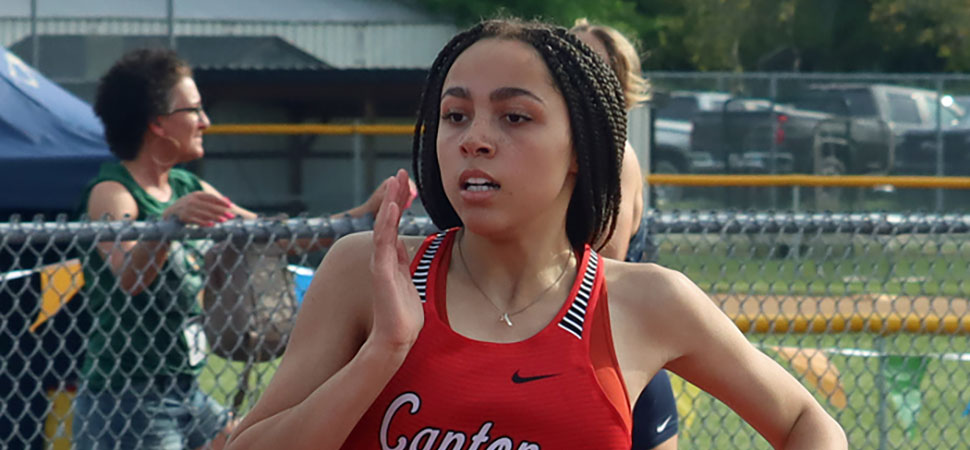 Canton Girls 4x400m Team Breaks Record At NTL Championships
By: Chris Manning | PIAA District IV | May 15, 2023 | Photo courtesy Chris Manning
Canton saw another school record fall as they brought home four titles from the NTL Track and Field Championships.
The 4x400 team of Daveian Crowley, Kendall Kitchen, Camille McRoberts, and Alexis McRoberts won in 4:13.05, breaking the old record of 4:14.99 set back in 2017.
Kitchen also won the pole vault at 9-feet, while Alexis McRoberts won the discus in 89-feet, 1 1/2-inches.
On the boys' side Kyle Kapichok won the discus with a throw of 149-feet, 5-inches.
Also for the girls Crowley was second in the 200 in 26.53, third in the 100 in 13.06 - though she ran a 12.83 in qualifying - and took fourth in the 400 in 1:01.28.
Camille McRoberts was second in the 800 (2:28.63) and third in the 1600 (5:42.44).
Kitchen was fourth in the 200 (27.20) with Alexis McRoberts fifth in the 300 hurdles (52.54). Their 4x100 was fifth in 54.06.
With the boys Anthony Asbury (130-feet, 2-inches) was third in the discus with William Colton (126-feet) fourth.
Kapichok (134-feet, 9-inches) was sixth in the javelin as Rian Eberly (42-feet, 9 3/4-inches) was third in the shot put. Colton (40-feet, 8 1/2-inches) came in fifth.
Warrior Lawrence Halbfoerster (11:11.29) was seventh in the 3200, while their 4x100 (50.14) and 4x400 (4:07.11) were both eighth.