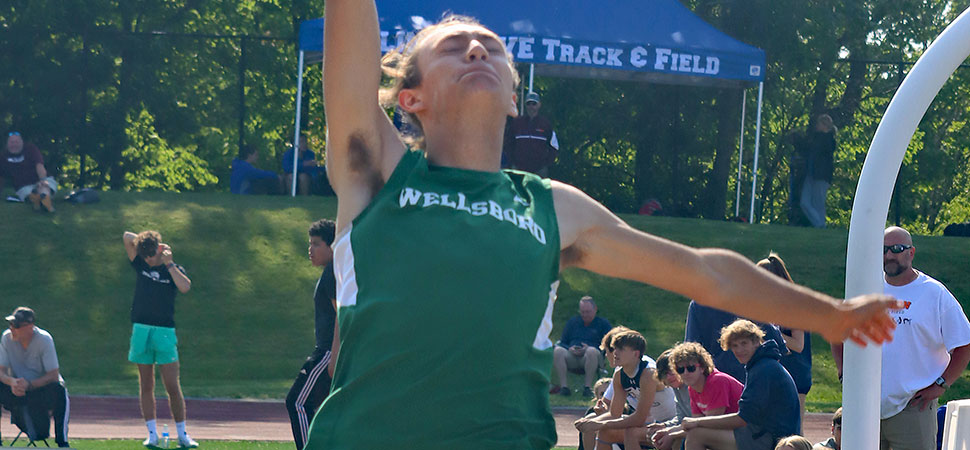 Gehman Finishes 2nd In Long Jump, Punches Ticket To States
By: Ed Weaver | PIAA District IV | May 19, 2023 | Photo courtesy Chris Manning
Senior Aiden Gehman qualified for the PIAA State Track & Field championships at Shippensburg University next week at the District IV championships on Thursday, May 18.
Gehman took 2nd place in the long jump, landing a jump of 20-ft, 11.5-inches. Warrior Run's Alex Brown won the event with a jump of 21-ft, 1.5-inches.
"I'm very excited, I've never gone to states in anything before so it's a very cool experience," he said. "It's just awesome to be here, it's very cool."
Gehman's primary sport this spring was tennis, where he helped lead Wellsboro to the district semi-finals, however he still found time to make the meets. During the season Gehman led the Hornets in the long and triple jumps, and was 2nd in the high jump.
At districts Gehman's goal was not to scratch.
"I focused a lot on my speed. That did a lot."
Now Gehman has to re-focus for next week's competition.
"I'm just excited that I get to go," he continued. "I'm going to do my best but I'm really excited."
In other action sophomore Micaiah Fitch (18-ft, 10.75) finished 12th in the long jump, junior Watson Feil (134-ft, 2) was 18th in the javelin, and sophomore Micah Vickery (16.91) finished 11th in the semi-finals of the 110m hurdles.
Also competing, sophomore Annie Gehman finished 13th in the long jump (15-ft).
The action resumes Saturday morning back at Williamsport High School.