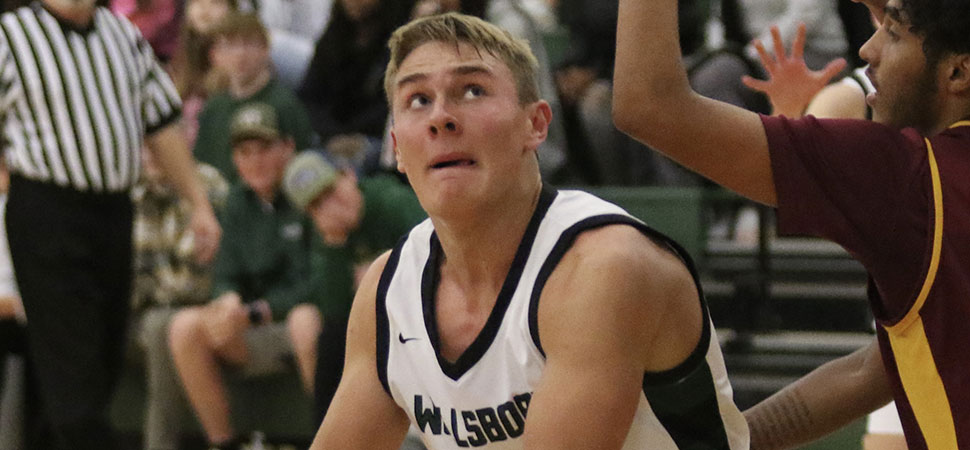 Hornets Drop Non-League Game To Neumann, 70-62
By: Ed Weaver | PIAA District IV | January 3, 2023 | Photo courtesy Lance Larcom/ntwsportsreport.com
Senior Cameron Brought scored a career-high 22 points, but the Wellsboro Varsity Boys Basketball team fell 70-62 to St. John Neumann for their third straight non-league loss on Monday, January 2.
"It was a battle and we're improving," head coach Steve Adams said.
The Hornets won the opening quarter, outscoring the Golden Knights 16-13. Davion Hill scored 11 of Neumann's 13 points in the opening frame, but the Wellsboro defense held him scoreless in the 2nd quarter. Neumann edged Wellsboro 15-14 in the 2nd but the Hornets still took a 30-28 lead into the halftime intermission. St. John Neumann took the lead in the third with a 21-point quarter, and backed it up with another 21-point quarter in the final eight minutes to beat Wellsboro.
Hill scored a game-high 34 points to lead St. John Neumann.
Brought recorded his 2nd straight double-double, adding 13 rebounds to his team-high 22 points. Senior Peyton McClure finished with 14 points and 5 assists, junior Hayes Campbell had a double-double of 13 points and 13 boards, junior Caden Smith added 8 points, senior Conner Adams chipped in with 3 points, 8 assists and 2 steals, and junior Ian Hoose rounded out the scoring with 2 points. Smith also added 5 assists and 5 rebounds.
Neumann shot 13-for-19 (0.684) from the foul line while the Hornets were 7-of-13 (0.538).
St. John Neumann won the JV game 25-19, dropping the Hornets to 2-3 on the season. Freshman Aaron Kirk led Wellsboro with 11 points.
The loss drops Wellsboro to 4-3 (3-0 NTL Large School Division). The Hornets resume league play on Friday, January 6 as they face off against rival North Penn-Mansfield in the Margaret (Peg) Berguson Memorial Trophy game. The series is tied at four games apiece, with the Hornets winning the last two games.