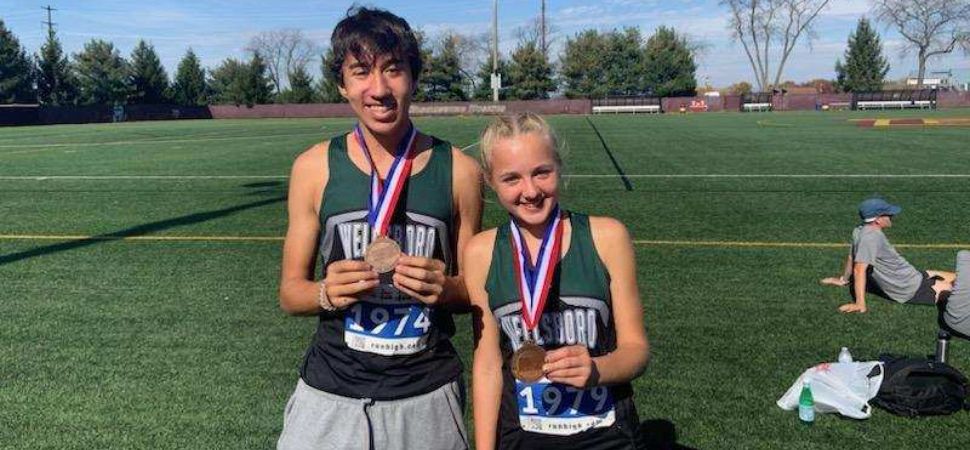 Kosek, Macias Qualify For State XC Championships
By: Ed Weaver | PIAA District IV | October 27, 2023 | Photo courtesy Eric Kosek
Freshman Lauren Kosek and sophomore Max Macias will be heading to Hershey as they punched their tickets to the PIAA State XC Championships with top 10 finishes at the District IV Championships at Bloomsburg University.
Kosek placed 9th overall in the Class 2A race in 19 minutes and 45 seconds. She started out in 10th, dropped back to 14th after the first mile, then worked back up to 10th before crossing the finish line running a 6:22 pace.
Macias finished 8th overall, running a time of 17:54 and a pace of 5:46. Macias was 12th after the 1st mile then worked his way up to 11th at the 2nd mile marker before picking off two more runners at the 3700m mark.
"Lauren ran a personal best of 19:45 today while battling tough competition within the district," commented head coach Eric Kosek. "While I'm happy with her time she feels like it wasn't her best race and she is excited and humbled to experience the States course in Hershey as a freshman.
"Max ran his best race to date, going into the race he knew that he had to have a perfect day to make it into the top 10," added Kosek. "He held on to 8th place from the start and fought off fatigue to pull off a surprising state qualifying time...he was so shocked, he couldn't believe it happened!"
The girls did not have enough runners to register a team score. Sophomore Sophia Yoder finished 58th in 24:02 and junior Karah Blackwell (27:15) was 86th.
The Hornets boys finished 8th overall with 189 places. Sophomore Henry Whitney (20:23) finished 33rd, sophomore Ethan Geneski (21:38) came home in 46th, sophomore Robbie Bowers (23:47) was 56th, freshman Ethan Pollaro (35:17) was 63rd, and senior Tristan Lane (36:07) was 64th.
Both Kosek and Macias will be back in action on Saturday, November 4.