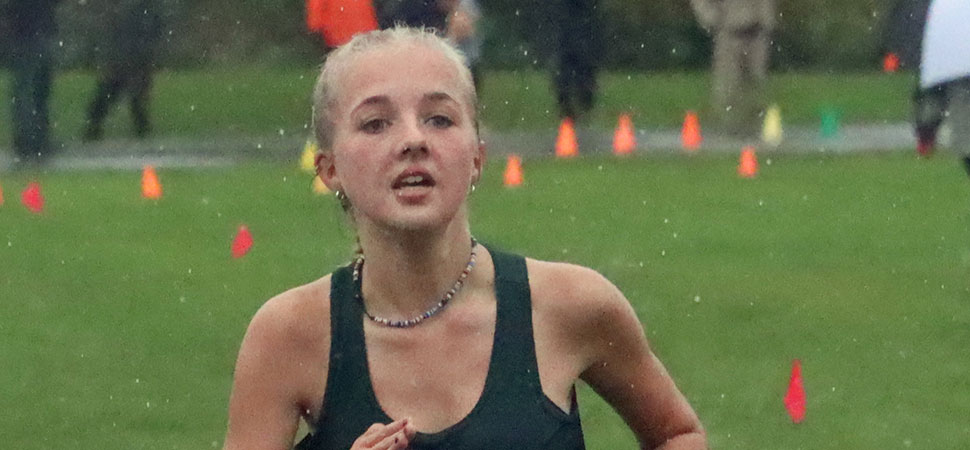 Kosek Places 2nd At NTL Coaches Invite
By: Ed Weaver | PIAA District IV | October 15, 2023 | Photo courtesy Chris Manning
Freshman Lauren Kosek placed 2nd overall at the NTL Coaches Invite at Northeast Bradford on Saturday, October 14.
Kosek, who ran 20:04, finished 19 seconds off NEB's Gracelyn Laudermilch (19:45) to lead the Lady Hornets. Sophomore Sophia Yoder (24:08) finished 25th and junior Karah Blackwell (29:19) was 47th.
Northeast Bradford won the meet with 51 places followed by North Penn-Mansfield (57), Athens (57), Wyalusing (70), and Towanda (112).
Northeast Bradford also won the boys meet with 41 places. Towanda (72) was 2nd, Troy (97) finished 3rd, Cowanesque Valley (115) came home 4th, Athens (128) placed 5th, Wyalusing (134) was 6th, Canton (171) finished 7th, and Wellsboro (199) rounded out the field.
Sophomore Max Macias led the Hornets with a 12th place finish in 18:35. Sophomore Henry Whitney (21:53) was 51st, sophomore Robbie Bowers (22:34) was 63rd, sophomore Ethan Geneski (22:36) was 64th, freshman Ethan Pollaro (37:10) was 85th and senior Tristan Lane (39:55) was 86th.
In the Junior High races the young Lady Hornets placed 4th overall with 71 places. Kaci Kosek led the way with a 3rd place finish in 12:15. Bella Hawn (13:03) was 9th, Molly Tice (14:13) was 18th, Anja Przybycien (15:06) was 24th, and Sylvia Lane (24:32) was 39th.
In the boys race Lane Cozby led Wellsboro with a 32nd place finish in 13:03. Jacob Patterson (14:05) was 35th, Taitt Webster (14:20) finished 37th, and Owen Stumbo (14:22) came home 39th.