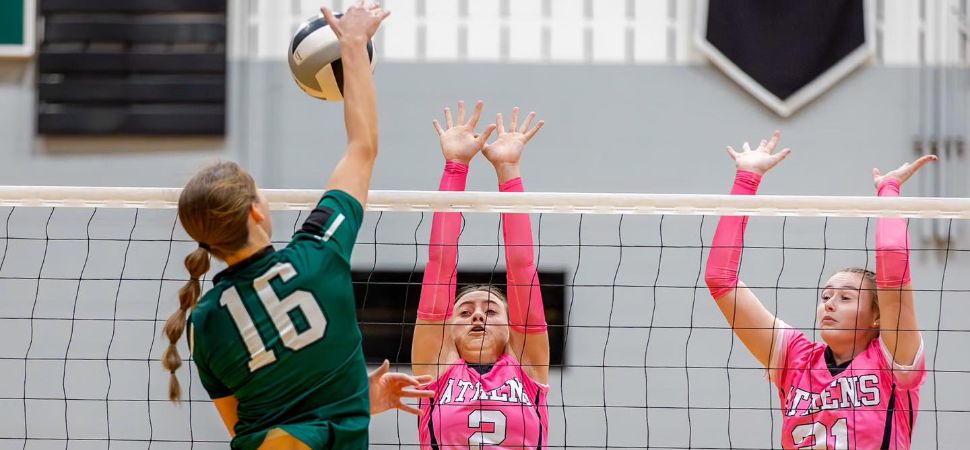 Lady Hornets Sweep Athens To End Regular Season
By: Ed Weaver | PIAA District IV | October 25, 2023 | Photo courtesy Traveling Portraits Photography
The Wellsboro Volleyball team finished the regular season on the road, sweeping Athens 3-0 on Tuesday, October 24.
Wellsboro edged Athens 25-23 in the first set and 25-22 in the second to take a 2-0 lead over the Lady Wildcats. Wellsboro completed the sweep with a 25-13 win in the second set.
Sophomore Taylor Main led the Lady Hornets with 25 points, 3 aces and 11 assists while senior Natalie Cleveland had 16 digs. Junior Lexi Urena had 10 kills, 6 points (2 aces) and 6 digs, junior Arianah Lawton made 4 assists, and senior Olivia Chilson and junior Paige Logsdon also had 4 kills apiece. Logsdon also had 2 solo blocks.
Wellsboro started the evening winning the JV game 2-1. Wellsboro took the first set 25-19, lost 25-17, then rebounded to win the third set 16-14. They finish the year with a 14-5 record.
The win in the Varsity game gives the Lady Hornets an 11-9 record overall and 9-5 in the NTL Large School Division. The Lady Hornets currently sit in the sixth spot in the District IV Class 2A standings heading into post-season play.